A trip to the beach isn't complete without building a sandcastle.
Whether you go for a simple tower for two or a full-on castle with moat and drawbridge, we want to see your creations, and our favourite will win a £1,000 On the Beach holiday voucher to put towards their next family holiday!
You don't have to be on an exotic beach far, far away – just anywhere with sand where you can show off your castle-building prowess and top it off with our flag, which you can download below. If you're going on holiday make your On the Beach signpost before you go and don't forget to pack it in your suitcase ready for when you get to the beach!
Once you're done, make sure you capture your creation on camera. You can let the sandcastle take centre stage or get your family and friends into the photo too – we're looking for something creative, funny or just really good!
When you get back from your holiday, just add your details to the entry form at the bottom of this article and upload your photo.
We'll be sharing the best entries every week on Facebook, and our overall King (or Queen!) of the Sandcastles will win the holiday voucher to send them back on their way to the beach.
We know they're boring but here are the terms and conditions, check them out!
The competition closes at 5pm on Friday, 6th September 2013 and we'll announce the winner shortly after. Good luck!
Competition Instructions: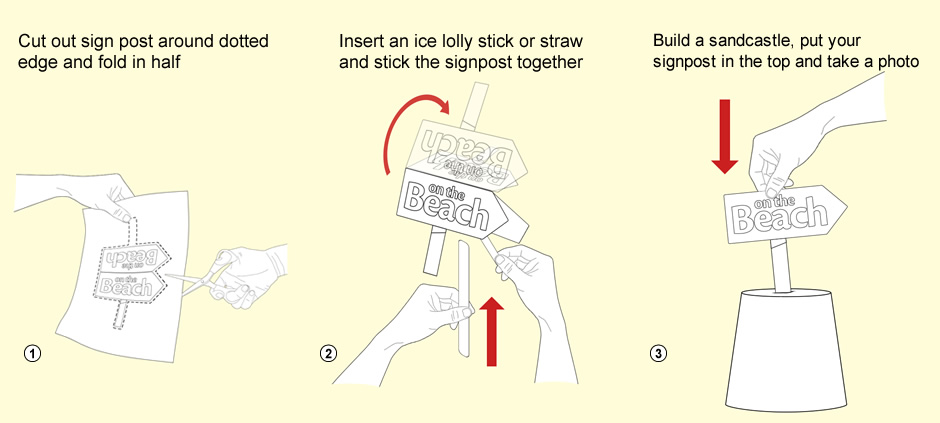 Download your On the Beach Sandcastle Signpost:
On the Beach Sandcastle Signpost
Enter your details and upload your photo:
[contact-form-7 id="5359″ title="Upload Photo Competition Form"]
Good Luck!