Sun, sea, and sand are the three pillars of perfect summer holidays. But before you set off in search of your sun-kissed haven, remember to pack your shovels, buckets, and spades so that you can follow our simple steps to build the perfect sandcastle.
After reading our step-by-step guide, I am sure that your sand structures will amaze your whole family!
The Preparation
Have easy access to water
Dry sand is dull and lifeless. Attempting to build your sandcastle from dry sand will see your structure forlornly collapse. So to help solidify your sand, you need water, and a fair amount of it. Experts in the field (beach) suggest that the ideal recipe for the perfect sandcastle building sand is eight parts sand and one part water.
So when building on the beach, it is advisable to dig a water hole to have access to your own little reservoir.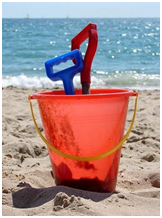 Remember, every artist needs the right tools to work!
Shovels are great for digging and scooping, while trowels are excellent for sculpting. But when working on your structure, don't be afraid to get your hands dirty, as nothing will pack the sand tighter.
The spray bottle is an often overlooked piece of sand sculpting equipment, but it is ideal for keeping your structure most and solid.
The Build
As previously stated, obtain a constant supply of water by digging a hole down to the water table where thesand is dark and moist. Alternatively you could just bring back buckets of water from the sea.
Create a firm base by scooping wet sand onto the area that you will be working on. It is important to work quickly so that the sand remains damp.
Build towers by forming and stacking sand patties that are about the same size, shape, and thickness of an American pancake. Place slightly larger patties at the bottom, then gently shake and pat your sand to ensure that the sand settles. Solidify your towers by gently pouring water over it or by using a spray bottle.
If you are feeling really adventurous you can even build walls that connect your towers by gently shaking wet sand from side to side into brick shapes.
Personalise your towers and walls by using a small trowel or your hands to carve pretty shapes and designs into your sandcastle. Be creative!
Dig a moat around your castle to protect it from tiny invaders… or waves.
Once completed, remember to take a step back and admire your creation. Take loads of pictures so that you can post them on Facebook to show your friends that you are a talented sand architect!
Whether you enjoy creating incredible sand structures, or prefer knocking them down, building sandcastles is supposed to be fun. If our guide has inspired you, and you have booked holidays in Turkey, Spain, Lanzarotte, or anywhere with a lovely beach, please send us pictures of your perfect sandcastles. We'd love to see them!
We hope that you have a wonderful family holiday this summer. For a bit of sandcastle inspiration, check out…. BBC YouTube sandcastle building video