The gorgeous 5* Kervansaray Resort is a huge complex built into the stunning mountainside. Many of the rooms are chalets, set away from the main buildings, and are perfect if you're after a little privacy.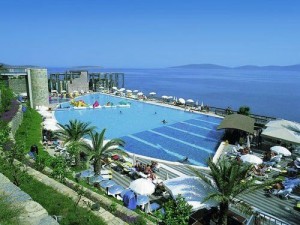 It's a perfect hotel for families, couples and friends thanks to the superb staff, gorgeous grounds and absolutely fantastic food. Indeed, the food is one of the things consistently raved about on review sites, with a huge choice of hot and cold dishes, both traditional Turkish and international. Unlike many hotels, the All Inclusive programme at the Kervansaray is actually all inclusive, with local beers, wines, spirits, tea, coffee, soft drinks, snacks and ice cream included. In addition to the fantastic main restaurant, there's a pool bar, a beach bar, pizzeria and an a la carte restaurant – it's impossible to get bored of the delicious food!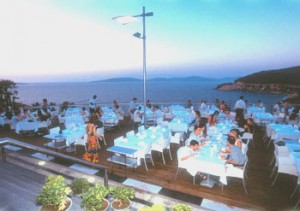 The hotel is nicely out of the way, but Bodrum is easily accessible by bus, and there are shuttle buses from the hotel every 15 minutes. Besides, the entertainment team at the hotel is so excellent you might find you don't even want to leave!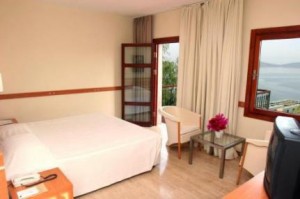 Another thing visitors love is the attitude of the staff at the Kervansaray Resort. Always friendly and helpful, nothing is too much trouble, with everyone from the restaurant staff to the cleaners eager to make your stay as wonderful as possible.
Get 7 nights All Inclusive at the Kervansaray Resort, including return flights from Luton on 27th September (other dates and regional airports available), from only £323pp.