For a great value, relaxed week or two in the sun, you won't find much better than the Holiday Park Apartments. An easy 20-minute drive from the airport,  the hotel is comprised of a number of apartments, each one spacious and clean, with little extras such as black-out curtains ensuring you get a great night's sleep.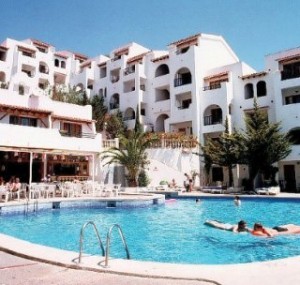 There's a mini supermarket at reception which stocks all the essentials. Check in is quick and simple, and staff are really welcoming and friendly. Meals are exceptional for a hotel of this size and, to be honest, price. The menu is simple, but everything is cooked to order, so it's completely fresh and very tasty! Breakfasts are top notch, too.
The beach, a long stretch of fine sand, is a pleasant five-minute stroll away and you'll find plenty of sun loungers and shades, and a number of shops nearby. If you'd prefer to chill out by the pool, there's plenty of room to sunbathe, swim, eat and be entertained, as well as a bar to keep refreshed.
If you fancy a late summer holiday this year, stay 7 nights at the Holiday Park Hotel on a self-catering basis from only £202pp – including flights!