When we choose the hotels we want to feature on the blog, we don't just rely on our own experiences – we read every review on TripAdvisor and make sure the hotels are of an exceptional standard as well as excellent value for money. The fantastic Club Seray Forest Hotel in Marmaris, Turkey, has been hailed as being "head and shoulders" above its competitors. It's suitable for all ages and all types of holidaymaker – from couples to families and friends.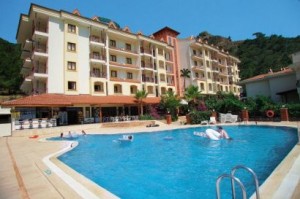 The friendly team of staff are always helpful and professional. Nothing is too much of a problem, and the entertainment team is great, especially with children. Restaurant staff work hard to make sure meals are varied and enjoyable. Everything is clean and well looked after, including the guest rooms, which are spacious and comfy with great views.
The hotel has a private beach with plenty of sunbeds, should you want to take a break from the pool. It's also not far from Marmaris itself, so if you fancy getting out and about it's easy to do either in a taxi or public transport. The hotel also has its own shuttle bus service, to make things even easier!
Treat yourself to 7 nights all-inclusive at the Club Seray Forest Hotel, with return flights from Glasgow (regional flights available) in July, from £319pp