As many of us have discovered, following your heart is one of those philosophies of life that can sometimes get you into trouble; however, it can also bring great joy and handsome rewards.  Hopefully the latter will prove to be true if you decide to use this criterion when selecting your next holiday destination. Yes, it is easier to do if you are a single person, but it is certainly not impossible if you are a couple travelling with your children. Wouldn't it be exhilarating to throw caution to the wind for once and be really adventurous when choosing your next beach holiday location?
Why not select an exotic destination that you have always yearned to visit and enhance your holiday experience by studying the language before you travel?  It also helps if you make up your mind to fully embrace the culture and customs of the area, to meet some of the locals and to sample the country's cuisine at every opportunity. So, why not let your heart rule your head this year and head for that holiday of a lifetime?  To give you some ideas here is a selection of exciting beach destinations that also have awe-inspiring landscapes; rainforests, amazing flora and fauna, national parks, diving safaris, water sports, warm bathing waters and wall-to-wall sunshine.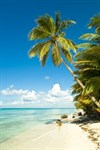 Costa Rica
Costa Rica is one of the most politically stable nations in Central America.  The Pacific Ocean laps the west coast and the warm Caribbean Sea lies to the east with some great beaches.  The country's "green" reputation is well deserved as it is the government's priority to protect the amazing geography, tropical ecosystems and biodiversity.  On a Costa Rican adventure tour you could begin by spending a few days at the Manuel Antonio National Park on the Pacific coast, then, moving inland, you can explore volcanoes, the Monteverde Cloud Forest Preserve or the Tortuguero National Park on the Caribbean coast.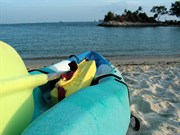 Croatia
From June through to August, Croatia's Dalmatian coast offers the perfect setting for an incredible family holiday adventure.  The main tourist attraction is undoubtedly the country's beautiful beaches.  There are also great walks, swimming, kayaking and white-water rafting available for the active holidaymakers. Adventure lovers should not miss the spectacular Cetina River with its hidden caves, waterfalls, isolated pools and massive cliffs. If you decide on a quieter day, it can be profitably spent admiring the natural beauty of the Adriatic coast, with its pristine beaches and offshore islands. The Makarska Riviera has some of the country's best beaches. With a stunning mountain backdrop this area is understandably very popular with tourists.

Egypt
Yes, Egypt!  As if the pyramids, ancient tombs and temples, and museums full of priceless historic relics, Egypt's Red Sea coast offers everything you'd expect from a top-notch beach holiday.  Enjoy windsailing, kite surfing, glass-bottom boat tours and some of the most incredible dive sites on the planet.  The Red Sea is home to rare marine life and tropical fish, unbelievable coral reefs and fascinating reef walls.  Sharm El Sheikh, Hurghada and Dahab are some of the region's most popular seaside destinations.