Spain is one of our most popular holiday destinations, and it's no surprise, with its sunshine, a huge range of things to do and lots of local dishes like paella to enjoy.
But there's much more to do, from giant food fights to beachside music festivals. Here's why we'll be hitting Spain in 2014:
1. Cristianos y Moros, Alicante (22nd – 24th April)
This festival is massive across over 80 towns in Spain. It celebrates the liberation from Muslim role back in the 13th Century, and the biggest celebrations take place in Alcoy, Alicante. Huge groups of locals dress in traditional outfits worn by Muslim and Christian soldiers, slaves, guild groups, town criers and heralds, not to forget local bands, put on an amazing street show across three days. Why not get festive and join in, or maybe you'd rather sit and take in the atmosphere while sipping on some freshly squeezed Spanish orange juice.
This is a lovely opportunity to spend some time with the family and share an extraordinary experience. Make a proper holiday of it and spend some time enjoying Alicante, maybe with a stint of horse riding through the beautiful Gudalest valley?
2. Primavera Sound Festival, Barcelona (29th – 31st May)
Why not kick start your summer at the end of May? Children-friendly music festivals can be hard to find, but Barcelona's Primavera is suitable for everyone from families and friends to couples and colleagues, with plenty of entertainment aimed at all ages. With three days full of vibrant music, sunshine and laughter, it's certain you won't be wanting to leave straight away. Why not explore more of Spain's second largest city and visit the world famous Sagrada Familia, before dining in one of Barcelona's trendy tapas cafés?
3. La Tomatina (27th August)
La Tomatina is a food fight festival held every August in Bunol – a town close to Valencia. Thousands of people from all over the world travel to get involved in this 'World's Biggest Food Fight', where more than one hundred metric tons of over-ripe tomatoes are thrown in the streets!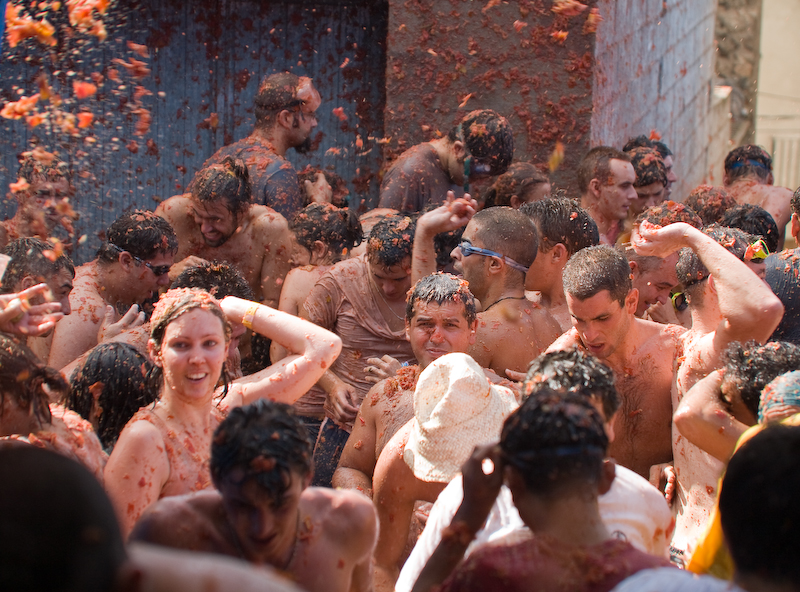 The festival is a week-long experience of music, parades, dancing and fireworks. On the night before the tomato fight, participants of the festival also compete in a paella cooking contest. This festival is one for the grown-ups and would make a memorable holiday with friends or as a couple. Be sure to only wear clothes you don't mind getting ruined as it gets pretty wild and feisty in there!
4. San Fermin (6th – 14th July)
This crazy festival, translated as the Running Bull Festival, is a nine day string of experiences and celebrations. You can expect to meet people from all parts of the world, there to hear the traditional music, see the street parades and experience the fireworks, sports and bullfights. This festival is all about community. From young children to seniors, everyone comes to have an amazing time.
5. Benicassim Festival (17th – 20th July)
Benicassim Festival, or Fesival Internacional de Benicassim as it is known in Spain, is a four day music festival which takes place on the east coast between Valencia and Barcelona from 17th – 20th July. With music from bands old and new as well as big electronic DJ's, it gives guaranteed satisfaction for all music lovers. Although it's a favourite for young adults, there's plenty of room for children and older adults, too! With the festival taking place right on the beach, you can forget about muddy fields and just enjoy the beautiful sun and sea.
If you prefer to stick to beautiful beaches and chilling out on holiday, there's plenty of that in Spain, too! Why not take a look at our deal finder and see what we can find to suit you?