This summer, we're focusing on feeling confident in the water, and where better to practice your floating, splashing and swimming than a fantastic hotel pool? There's something so relaxing about taking a dip and then chilling out on a sun lounger. And there's nothing better than playing in the water with your family. These experiences are what sunny breaks were made for, so leave your swim shyness on dry land and jump in. Here are some of our favourite hotel pools…
Fantasia Bahia Principe Tenerife
Always wanted to be treated like royalty? Staying at the Fantasia Bahia Principe Tenerife might just be the next best thing. Here you can swim against the backdrop of a castle that looks like it's been lifted straight out of a Disney film. If that wasn't special enough, the pool area offers a pretty fountain, sea views and poolside dining, too.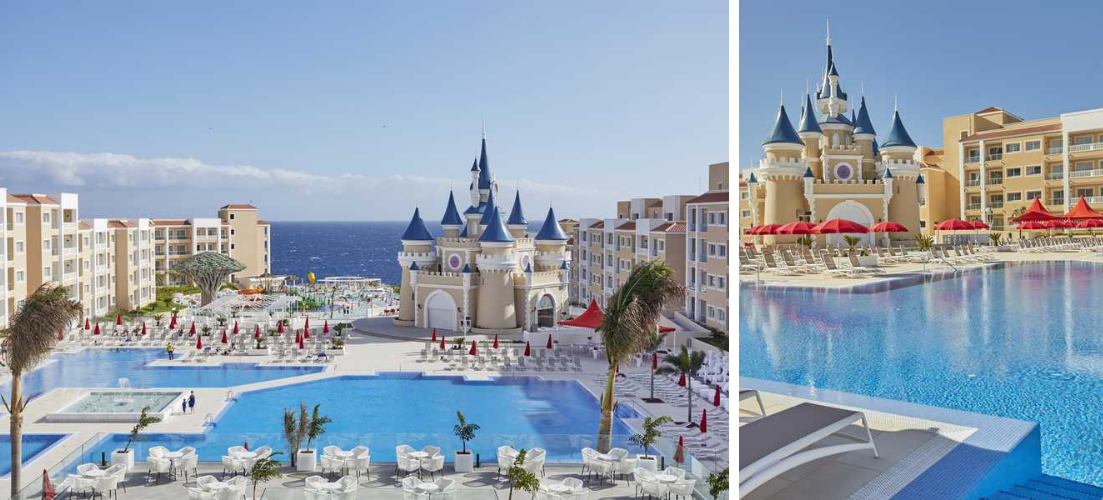 Sol Katmandu Park & Resort
If aquatic family fun is the aim of your holiday game, then Sol Katmandu Park & Resort is a great choice for you. You'll find an on-site kids' splash park that dreams are made of here, as well as a lagoon-style swimming pool for all ages. Pack even more fun into your holiday to Magaluf, by visiting the hotel's sister theme park for thrills and excitement galore.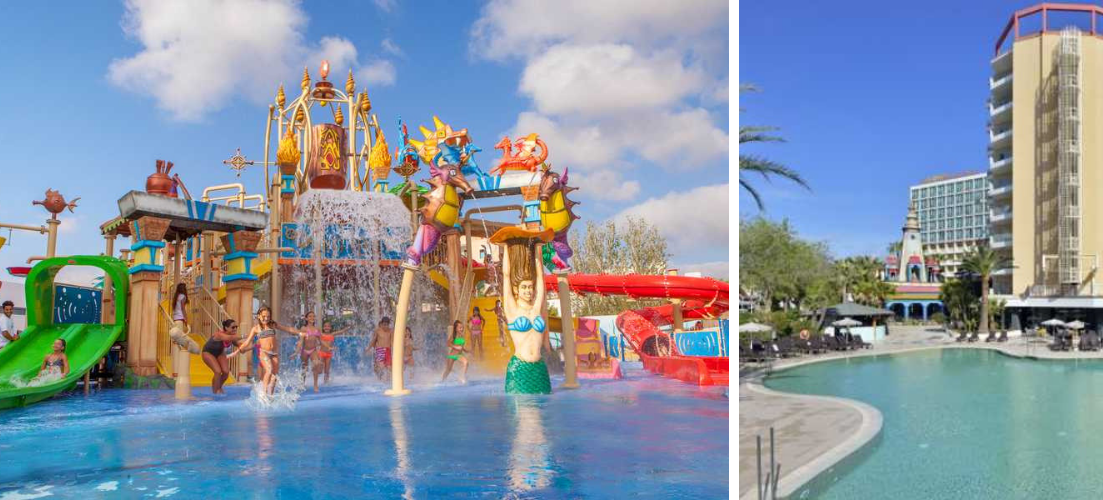 Sunconnect Sofianna Resort
If you prefer something more low-key but no less lovely, check out the pools at the Sunconnect Sofianna Resort in Paphos, Cyprus. Dotted with sun beds and umbrellas, the terrace here offers plenty of places to stash your sunnies and towel before you jump in. Features like the foot-bridge really make this hotel pool stand out. There are even swim-up rooms for true water babies.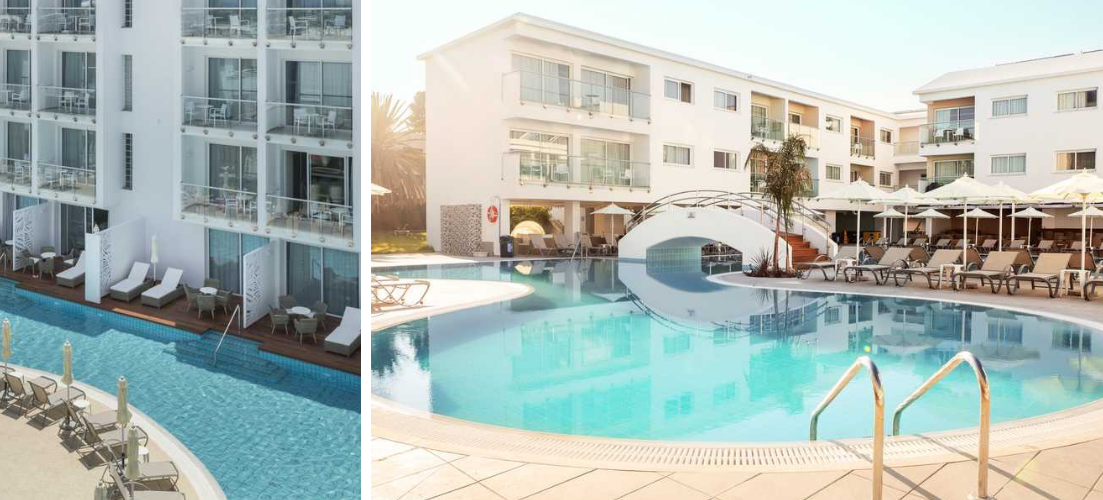 BH Mallorca – Adults Only
Travelling with your partner in crime or your best mates? Check out the waterslides at BH Mallorca. This party-centric pick is perfect for a bit of cheeky fun in the Magaluf sun. It's an 18+ venue but big kids are welcome, so hang out on the poolside or get vibing at one of the hotel's famous pool parties. Swimming has never been more sociable.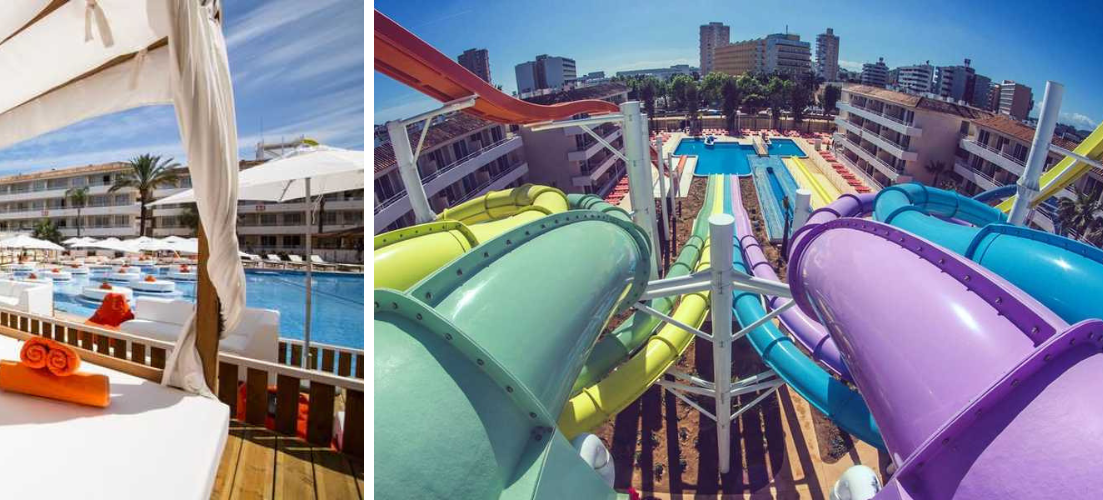 Sani Beach
Two words: infinity pool. If you suddenly started paying more attention, you won't be the only one. Sani Beach in Halkidiki offers an infinity pool with views over the Mediterranean Sea. Does it get any more blissful than that? There are also lagoon-style pools and dedicated splash zones for little ones. All we can say is, to Halkidiki and beyond!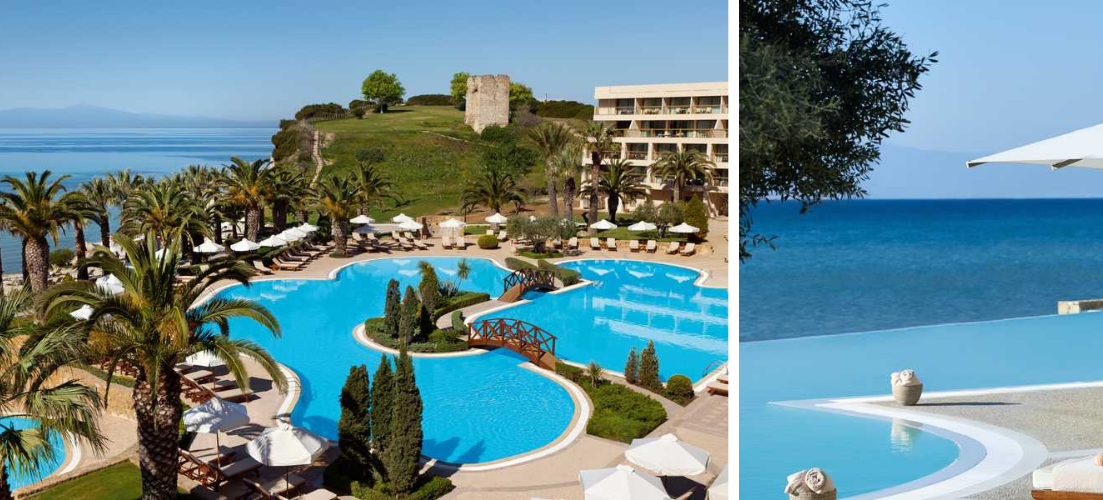 Atlantis, The Palm
As if we could create a list of the best hotel pools without mentioning Dubai! Atlantis, The Palm is situated on the iconic Palm, and offers stunning swimming pools, THREE private beaches and access to one of the world's most exciting waterparks. Excuse us while we dive into booking our flights to the UAE.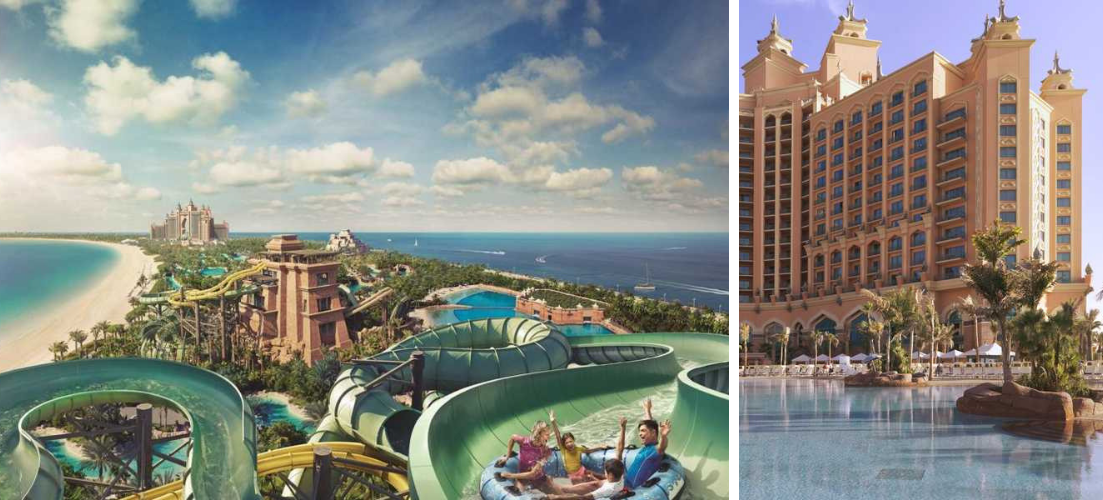 Want to improve your confidence in the water? Check out our #AllSwimclusive page for more aquatic adventures…