Are you taking a trip to Ibiza this summer on a fabulous family holiday? Or do you simply need some inspiration on where to go for your summer break? Well why not check out On the Beach's brilliant map and guide to Ibiza and discover some stunning beaches, great attractions, and places to spend the day.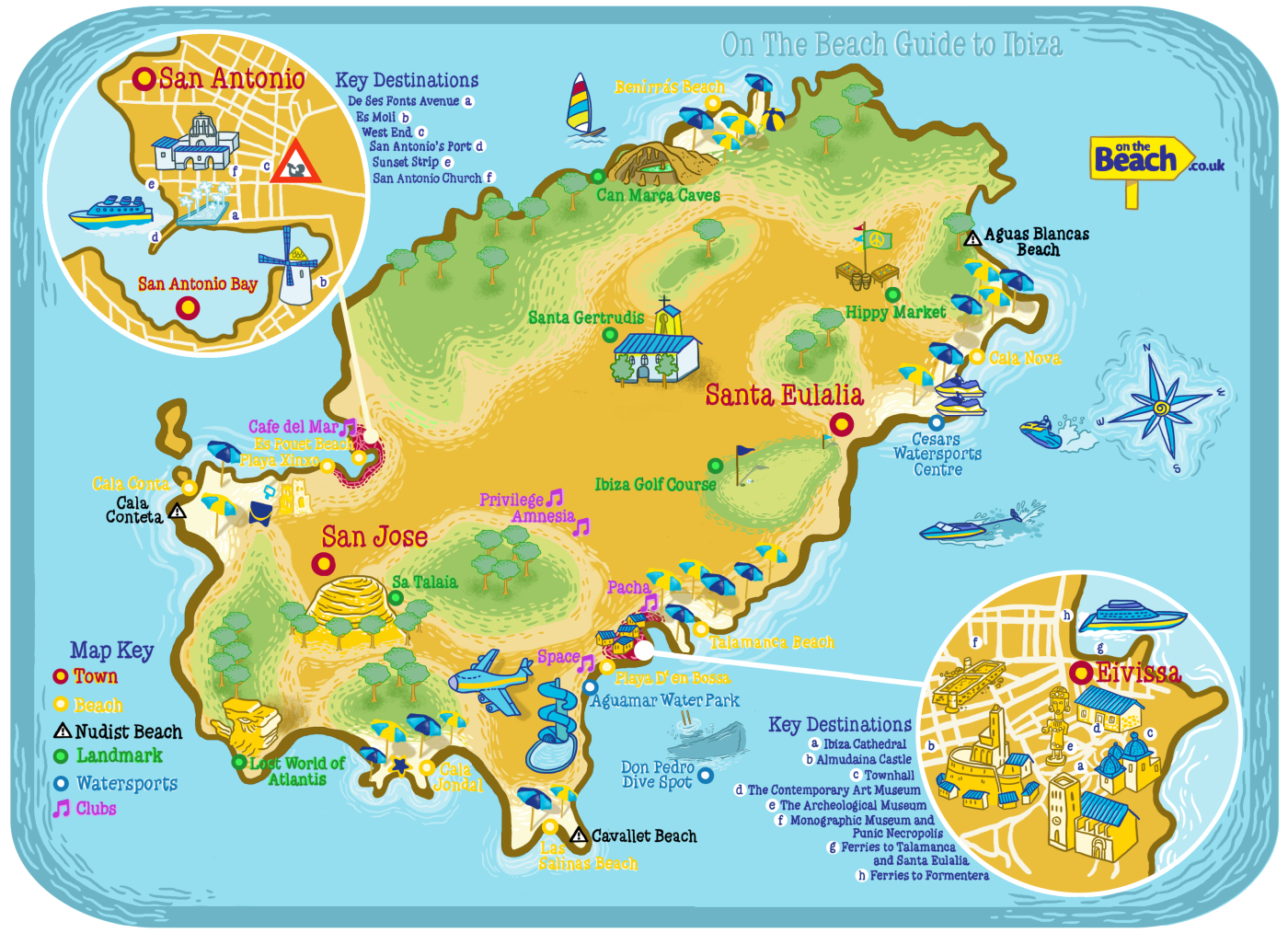 Recommended Beaches
Cala Jondal – As hot spot for the rich and famous, and great for families looking to avoid the crowds of San José, this laid-back beach is known for its friendly ambience.
Cala Conta – A fantastic beach recommended for families as children can play safely in its shallow, safe, and clear blue waters.
Cala Nova – Close to the resort of Es Caná, this beach is very family friendly. There are even lifeguards on duty so children can play safely in the water while you soak up the sun!
Las Salinas – A small cove roughly 5 km from San Antonio, its turquoise waters and pale sands are perfect to completely relax and unwind.
Benirrás – This secluded bay has a pleasant variety of restaurants, vibrant beach bar, and a pleasant atmosphere. The beach is also renowned for its impromptu drumming concerts.
Talamanca – An all time family favourite due to its stunning view across the ocean, safe and shallow waters, and great restaurants nearby. You will love Talamanca!
Es Puet beach – One of the best small beaches near San Antonio is Es Puet. Its picturesque golden sands and shallow waters make it perfect for families and for children to play in safely.
Playa Xinxo beach – Playa Xinxo is also known as Playa Bella due to its on-looking apartments. Its gentle waters and relaxing atmosphere make it a great beach for the little ones and for paddling around.
Going nude not your thing? Well make sure that you don't stumble onto a nudist beach by keeping your eye out for official signposts. A few beaches to watch out for include:
Es Cavellet– Near Ibiza Town
Aguas Blancas- Es Figueral near Santa Eulalia
Cala Conteta– Cala Conta near San José – a small cove 200 meters to the south of Cala Conta
Thank goodness for our On the Beach Ibiza Guide, eh!
Santa Gertrudis – A relaxing village steeped in history. With its traditional architecture and a cluster of restaurants and shops, locals head to the Santa Gertrudis to distance themselves from tourists.
Lost world of Atlantis – Perhaps the most secretive and enigmatic place to visit during your Balearic break. The locals won't disclose its location, and there are no signposts to lead your way, but trust me… it is there! Searching for this remarkable landmark will certainly appeal to adventurous families, as the beauty of Atlantis is in finding it.
Can Marça Caves – The Can Marça Caves are a stunning natural formation that is over 100,000 years old. Shaped by early Earth faults, the cave has endured heat waves and ice ages, and at present time, is almost completely fossilised.
Sa Talaia, near Sant Josep – For amazing views and a great day out, why not climb to the highest point on the island. It reaches 1,558ft and the top is landmarked by large radio masts surrounded by pine trees.
Hippy Market, Es Cana – The original and biggest market is open from 10am to 6:30pm during the holiday season. There are simply tons of interesting stalls positioned in the shade beneath the pine trees, making this one unique shopping experience.
Ibiza Golf Course – First opened in 1992 and located near Roca Lisa, between Ibiza Town and Santa Eulalia, the world renowned Golf de Ibiza offers two courses, one with 18 holes and the other with 9.
Cafe del Mar – Famous for its beautiful sunsets and ambient music, Cafe del Mar is located on a beautiful stretch of beach in San Antonio. Before you head out to the bar, you should check out one of their 17 amazing chill-out collections.
Amnesia – A haven for dance music, Amnesia is one of Ibiza's most popular nightclubs. Located close to the village of San Rafael, the club can pack in over 5,000 partygoers. Several films like "It's All Gone Pete Tong" and "Kevin and Perry Go Large" have had scenes shot in Amnesia.
Privilege – Privilege Ibiza is the world's largest nightclub, with a capacity of 10,000 people. The building resembles an aircraft hangar, but with a massive dance floor and a swimming pool. Head to Privilege this summer to see amazing acts like Wiz Khalifa, Armin van Buuren, and Underworld.
Pacha – Specialising in house music, the glamorous Pacha Ibiza will play host to world famous DJs like Pete Tong, Tiësto, and David Guetta. With incredible parties like Radio Soulwax Night, Flower Power, and Defected in the House, Pacha is a must for any partygoer in Ibiza!
Space – Renowned for its open air terrace and the roaring sound of aircraft breaking through the dance music, Space Ibiza has been a firm favourite with Ibiza clubbers since 1989. The club will play host to acts like Carl Cox, Mark Knight and Jaguar Skills this summer season.
Watersports
Dive Don Pedro – The cargo ferry that sunk very near to Ibiza port is now open for recreational diving! Don Pedro is the biggest wreck in Europe, with a length of over 140 meter. Divers will begin their descent to a depth of 25 meters, where they will eventually drop to 43 meters in order to enjoy the full-scale of the underwater ship.
Cesars' Watersports Centre – Located at the S'argamassa beach near Santa Eulalia, Cesars' Watersport Centre is a haven for adrenalin junkies! Whether you're a novice or expert, tourists will undoubtedly love the wide array of exciting water sport equipment and competitive prices.
Aguamar Water Park– As a great alternative to the day at the beach, the Aguamar Water Park is the largest water park on Ibiza and one of the islands top attractions. So for a frantic and fun family day out, be sure to visit the Aguamar Water Park!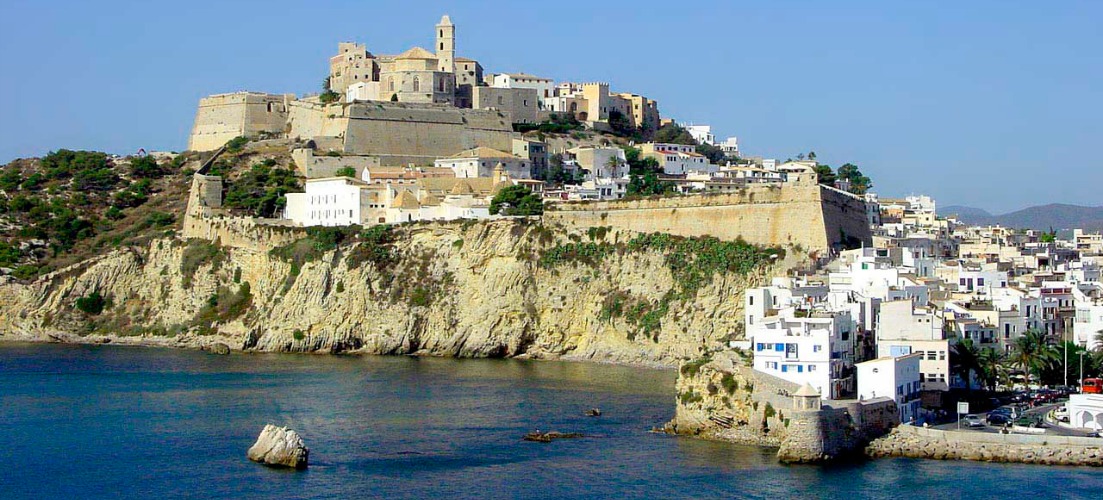 Ibiza Old Town – Historical monuments:
A – The Virgen de las Nieves Cathedral (Ibiza Cathedral) – Located in the Dalt Vila, the Virgen de las Nieves Cathedral is built upon an ancient Mosque in a 13th century in Gothic-Cataln style. The cathedral was built following a promise made by Guillem de Montgri in 1235, who said that he would build a parish church if his Catalonian forces managed to conquer Ibiza.
B – Almudaina Castle – The Amundaina is a fortified site that held the military and administrative installations of the Moslem "Wali". Several archaeological excavations have revealed structural ruins from the 12th and 13th centuries, although the current building is from the 16th century. The Castle is now a UNESCO World Heritage site, and provides great views of the surrounding area.
C – Santo Domingo Church – The Church is the only building from the old Santo Domingo convent that still retains its original configuration. Work on the building began way back in 1592, and it still retains much of its Baroque style and charm.
D – The Contemporary Art Museum – A must for culture vultures! The museum is located in the historic quarter of Ibiza. The museum's collection contains a body of artistic expression that largely emerged on the island during the 1960s, with beautiful work from local artists like Tapiès and Millares.
E – The Archaeological Museum – Situated in Dalt Vila, exactly in the Cathedral Square, the Archaeological Museum exhibits the historical remains of Ibiza and Formentera from the first settlers to the Catalan conquest in the 13th century. This collection is very complete, and gives visitors a comprehensive knowledge of the history of the island.
F – Monographic Museum and Punic Necropolis – Housed in the annexe of the Archaeological Museum of Ibiza, the Monographic Museum and Punic Necropolis displays exhibitions from three civilisations. Highlights include the rather peculiar collection of decorated ostrich eggs, and a bust of goddess Tanit, who has become the symbol of Ibiza.
G – Ferries to Talamanca, Playa den Bossa, Santa Eulalia – Want to explore the island? Well you can always hop on a ferry to one of these very popular resorts and experience a new part of Ibiza. While Talamanca and Santa Eualia are beautiful, picturesque, and quiet, Playa den Bossa is ideal for partygoers hoping to head to Space and Bora Bora Beach.
H – Ferries to Formentera – Formentara is the sister island of Ibiza, and one of the last true outposts of paradise located in the Mediterranean. So if you fancy walking on long white sandy beaches and bathing in turquoise waters, make sure that you take a ferry ride to Formentera.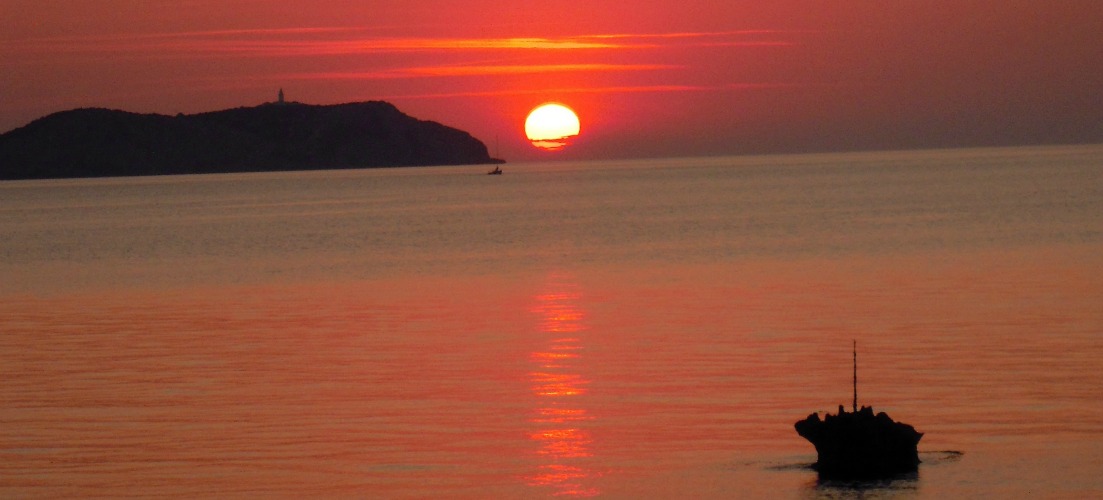 San Antonio – Historical monuments:
De Ses Fonts Avenue – Also known as San Antonio's musical fountains, this attraction on the promenade gets lit up at night and becomes a fantastic family sideshow.
Sa Punta d'es Moli – An attractive cultural centre with an old windmill and historic relics, the Sa Punta d'es Moli has one of the best views facing the Bay of San Antonio.
West End – West End is one of the most popular nightlife districts on the island, so expect crowds. Families wondering around this area should expect noise and debauchery spilling out onto the street until the early hours.
San Antonio's Port – You're never far from a beach along the Bay of San Antonio. There are also ferry boats which depart hourly taking families and tourists to nearby beaches such as Cala Conta and Cala Bassa.
Sunset Strip – Ibiza's famous sunset is iconic and the sunset strip is the place to be when it happens. But beware, many party goers start their nights here so expect large crowds.
San Antonio Church – Built around the 14th century, the massive stone walls of this fortress-like church still stand strong to this day. If these walls could speak, what stories they would be able to tell!
So head to Ibiza with On the Beach
We offer a great selection of flights and hotels in Ibiza for families. So whether you're looking to spend your days lying in the sun or hope to explore the island, there has never been a better time to book your perfect holiday to Ibiza!
Copy and paste this embed code to add the infographic to your blog or website:
<a href="http://bit.ly/OAmT3D" target="_blank"><img src="http://bit.ly/OAmT3D" alt="Enjoy Ibiza with a Fantastic Guide from On the Beach" title="Enjoy Ibiza with a Fantastic Guide from On the Beach" /></a><br/><a href="http://bit.ly/NcQSUT">Source</a>