There's nothing like a beach holiday is there?! The thought of enjoying a refreshing cocktail while sitting round the pool and topping up our tan gives us butterflies every time we think about it. Sometimes, it's nice to break up your sunny days with an afternoon of exploring. Some of our favourite beach destinations are home to some world-famous attractions that are definitely worth a visit. Take a look at our top 5 destinations for a cultural holiday below…
5) Crete
Crete is one of our favourite Greek islands and once we tell you what's on offer, we're sure you'll agree. The famous archaeological site of Knossos, which was once the home of King Minos, now features original art, handmade pottery and the remnants of an impressive ancient civilisation. The quiet village of Archanes is definitely worth an afternoon stroll and offers something a little removed from the touristic buzz found on other parts of the island. The Church of the Virgin Mary is a must-see when in the area. Browse a selection of ancient artefacts at Heraklion Museum, many of which were taken from the palace of Knossos and include intricately crafted tools, huge clay cooking pots and life-sized statues.
We recommend: Sentido Vasia Beach Hotel & Spa

4) Valletta
There really isn't a better time to visit Valletta than 2018 when the sunniest city in Europe will officially be the European Capital of Culture. Preparations are well underway for what promises to be an unforgettable year. The City of Valletta is a UNESCO World Heritage Site, owing to a range of fantastic attractions. The previous home of the Grand Masters of the Knights of St John, Grand Master's Palace also housed Malta's parliament up until 2015. Pay a visit to the National War Museum, National Museum of Archaeology or the Cathedral Museum or catch a show at the Manoel Theatre. The streets of Valletta are small and quirky and are lined with shops, restaurants and cafes.
We recommend: Hotel Phoenicia

3) Rome
The romantic city of Rome is a great place to enjoy a cultural holiday. A trip to this city wouldn't be complete without a visit to the Colosseum, arguably one of the most recognisable attractions in Europe. Enjoy a tour around the ruins with a knowledgeable guide or stroll around at your own pace. The Sistine Chapel is one of the most famous painted interior spaces in the world owing to the breathtaking painting on its ceiling, painted by Michelangelo between 1508-1512. A trip to the world-famous Vatican City is highly recommended. Visit St Peters Basilica and the Vatican Museums for what promises to be an unforgettable experience.
We recommend: Hotel Zone

2) Jerusalem
Jerusalem is often referred to as the holiest city in the world as it's home to a number of holy attractions such as the Western Wall (the last remaining wall of the Jewish Temple, the Church of the Holy Sepulcher (where some believe Jesus was crucified and buried) and the Dome of the Rock (where Muhammed is said to have risen to heaven). The Old City of Jerusalem is divided into four quarters; The Jewish Quarter, The Armenian Quarter, The Christian Quarter and The Muslim Quarter, all of which offer something different and unique to the previous. Jerusalem is also a museum hotspot with the Israel Museum and Jerusalem Biblical Zoo being two of the most popular.
We recommend: Mamilla Hotel Jerusalem

1) Barcelona
Barcelona is a city like no other. From the traditional Spanish cuisine to the breathtaking architecture, there is so much to see and do here. Spend hours strolling around Park Guell and witness some of Gaudi's best work. Another of Gaudi's most famous works is the breathtaking Sagrada Familia. Work on the cathedral began in 1882, and is only expected to be completed in 2026 – a century since the artist's death. There are plenty of bars and restaurants in the Gothic Quarter, which is also home to the famous Las Ramblas where you can spend hours browsing the stalls which sell foods, gifts and more. Did we also mention that there's a beach in Barcelona…
We recommend: Catalonia Barcelona Plaza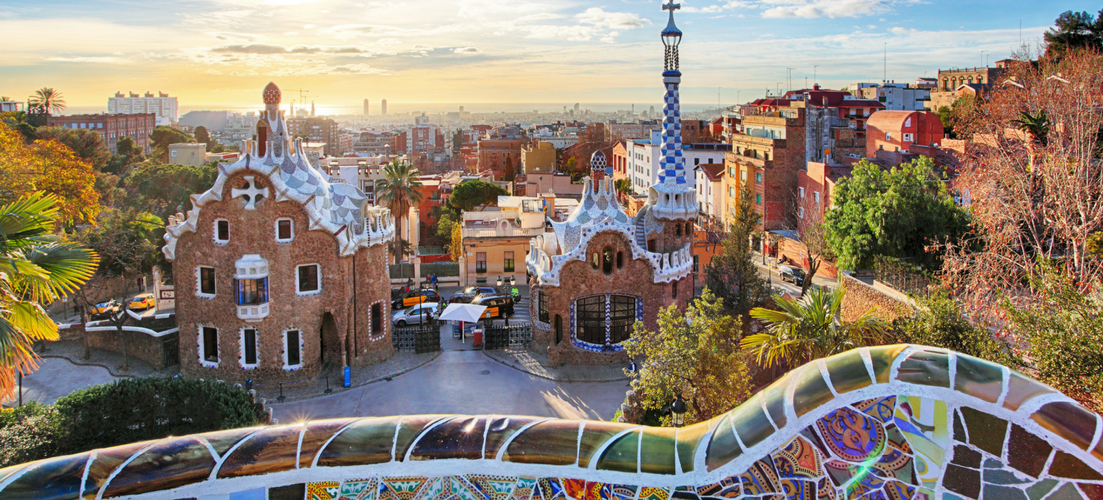 Find the perfect hotel for your next cultural holiday here