Seeing as we're so dedicated to our jobs, we flew out to sunny Crete to get the lowdown on Mitsis Rinela Beach. After filling our boots with omelettes, pastries and fruit from the breakfast buffet (when on holiday, right?), we were taken on a tour of the complex by the assistant manager. From a jaw-dropping pool area overlooking the sea, to restaurants open all hours and stylish guestrooms that scream luxury, we didn't want to leave this place. Luckily, we get to relive the experience by telling you all about it, so you can book your beach break. Mega jealous. Here's what we think you'll love about this hotel…
EVERYTHING is included
Literally. We asked. Several times. By the end of our visit, the question 'is this included on the all-inclusive package?' was met with an amused sigh from the assistant manager, before he reassured us for the 50th time that, yes, EVERYTHING is included. Sun loungers, ice cream by the pool, drinks in the lounge bar until 2am(!!), TV channels in the rooms, pizza for lunch, activities for the kids, evening entertainment – you name it, it's included. Now that's the definition of a stress-free holiday.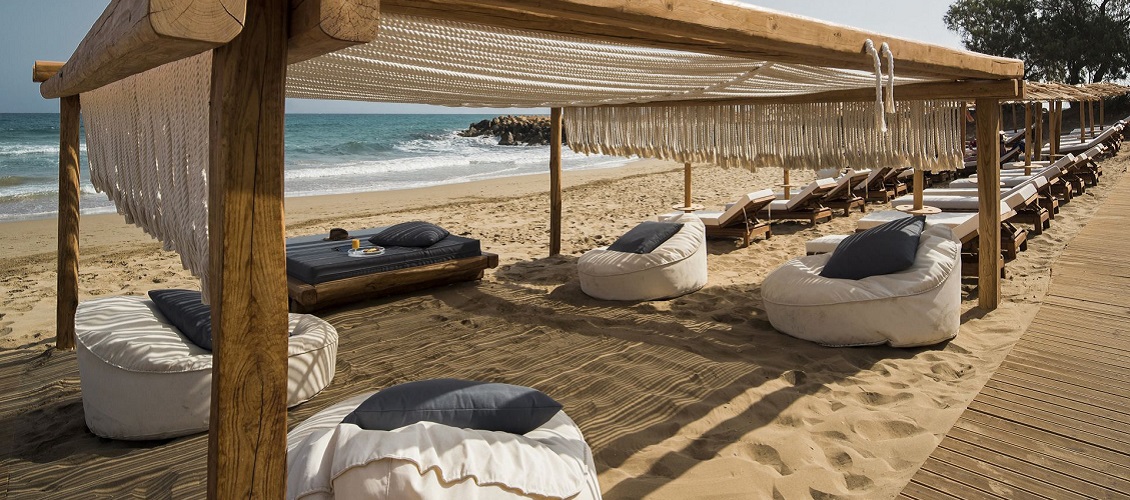 The seafront pool
As you walk through the lobby area to the back of the hotel, you'll step out into, firstly, scorching Greek sunshine, but secondly, the most breathtaking pool area. We couldn't wait to get a snap of this view. For starters, the main pool itself is huge, with comfy sun loungers dotted all around and even a handy towel-changing station. But the VIEW is what really stole our heart here. Why choose between the pool and the beach when you can have a bit of both? You can go for a dip in this refreshing pool while looking out to sea. If that's not pure bliss, we don't know what is.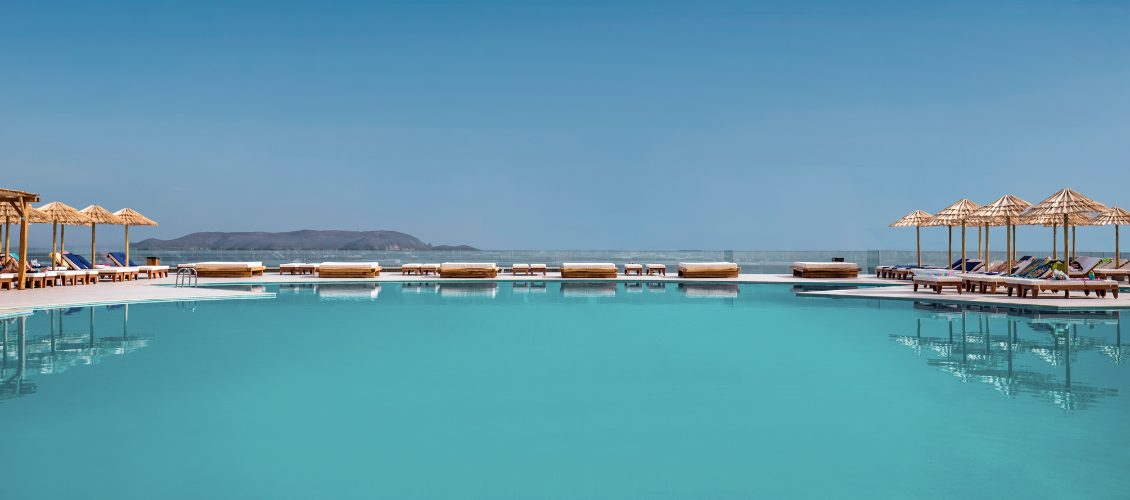 The most modern guestrooms you'll ever see
Forget mahogany wardrobes and garish bedsheets – hotel rooms at this complex are the perfect combo of style and comfort. Think ring light mirrors, flat-screen TVs with Netflix, sleek open-plan bathrooms with twin sinks, and terrace areas with plush outdoor seating – the perfect place to enjoy a tipple from the minibar. You guessed it, all included. When we tell you what else is in store at this complex, we doubt you'll want to spend too much time in your room, but if you do then you'll have over 100 TV channels to keep you occupied, a fully-stocked minibar and THE comfiest bed. Oh, and loads of the rooms come with either private pools or sharing pools which you can access straight from the deck, with speakers pumping out chilled summer beats. What more could you ask for?!

SECRET bar service
Yes, we know it says 'secret', but we had to share this with you. During our tour we were told (quietly) about the hotel's secret bar service for guestrooms with private or sharing pools. If you're in luck and you're lounging by one of the shared pools, then keep your eye out for a friendly-looking waiter taking drinks orders. No one quite knows where he disappears to or how he whips them up so fast, but he'll be back with whatever cocktail, juice or fizzy drink you ordered in the blink of an eye. No need for you to lift a finger. Five-star service at its finest.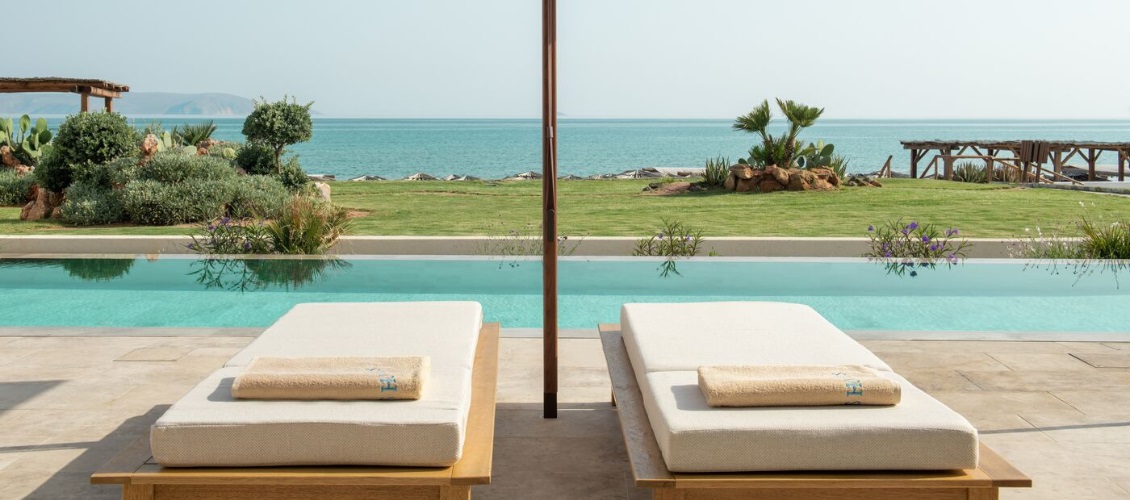 Entertainment for the kids
This hotel might be luxury, but if you're travelling with the kids then you don't need to worry – there's plenty to keep them quiet. Sorry, we mean occupied. The kids' club runs from 10 in the morning until 6pm, packed with activities and games throughout the day, from face-painting to talent shows. Plus, there's an on-site arcade which always goes down a treat (especially if the summer heat gets a bit too much), and in the evening there's a different show every night, with something for you and the little ones. Everyone's happy!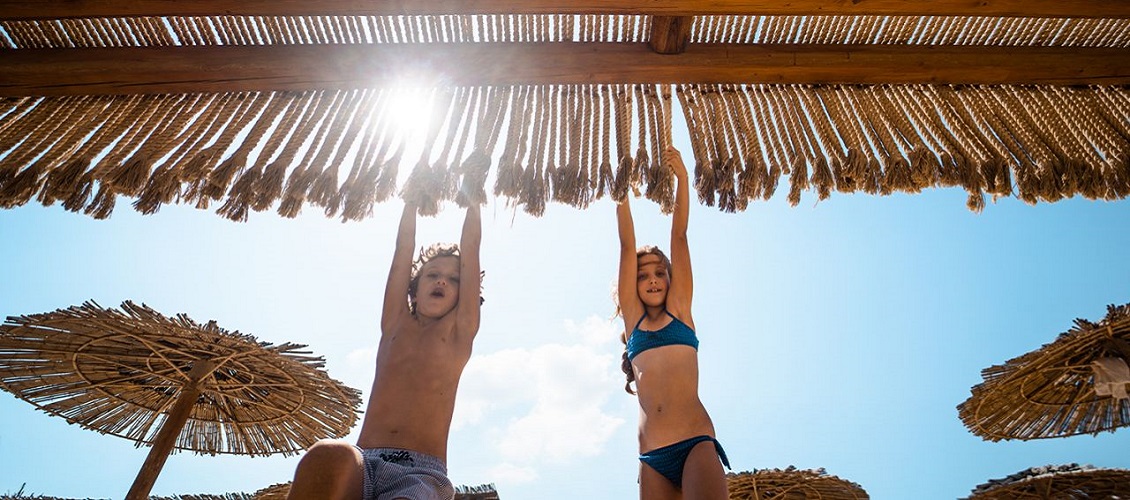 Food for every appetite
Whatever you're in the mood for, the restaurants at this hotel won't disappoint. We loaded up on the buffet breakfast at the Taverna a la carte restaurant before our tour, and alongside croissants, Greek yoghurt, marble cake and all the classic cooked breakfast faves, it also served up some pretty incredible sea views! We can think of worse ways to start the day than breakfast by the beach. This seafront tavern also opens for lunch and dinner, with crowd-pleasing options like chicken nuggets and spaghetti for the kids. And there's more where that came from. Between the steakhouse, Asian a la carte, pizza station, gyros corner and Gelateria which offers a whopping 18 different desserts, you'll be spoilt for choice. Oh, and did we mention the Italian a la carte which serves not only delicious dinners but an Italian-style brunch? Salute!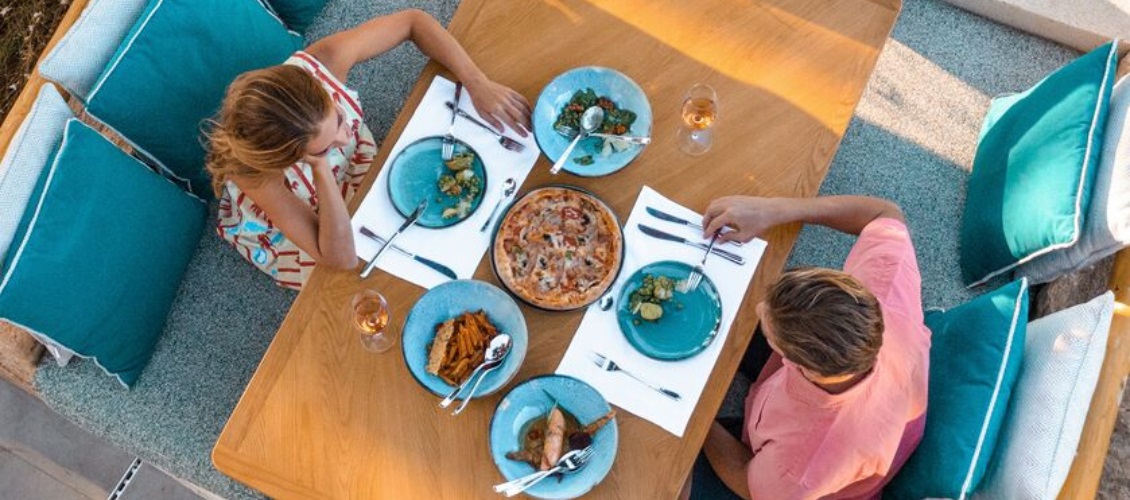 Can't wait to jet off? We don't blame you. Check out our last-minute holidays.