We love Menorca. Compared to its neighbouring Balearic Islands of Ibiza and Majorca, this low-key lovely is often chosen as the setting for more tranquil, easy-going escapes. With beaches for days and an exclusive feel, you'd be forgiven for thinking that Menorca is an expensive place for a beach break. Don't worry though, you don't need a big budget to fly high here. Step forward the Club Hotel Aguamarina.
Family-friendly. Ridiculously close to the beach. Great value. Jet off to Menorca and you'll be sure to land on your feet at the Club Hotel Aguamarina. Read on to find out more…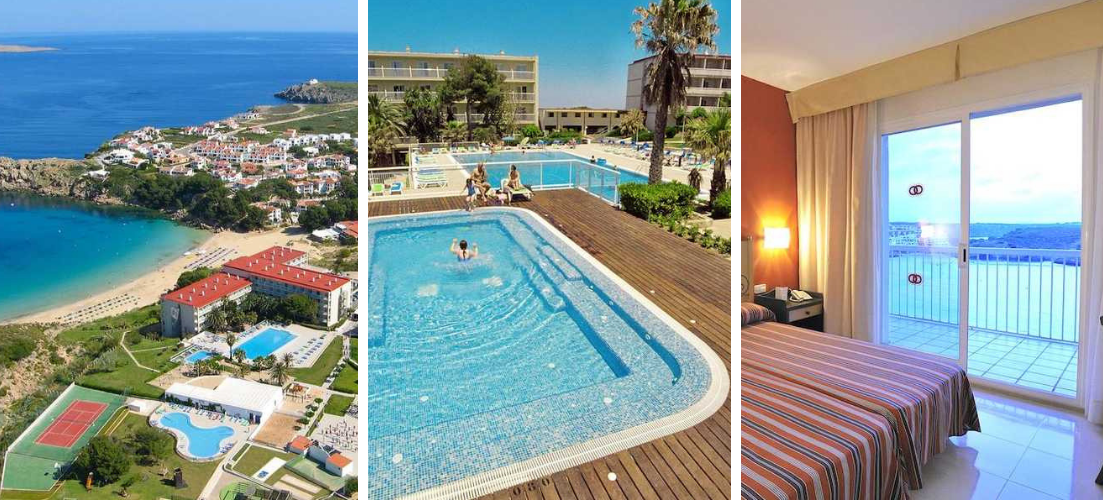 Do you love to be beside the seaside?
Located right alongside one of Menorca's most beautiful beaches, Club Hotel Aguamarina offers comfy, convenient accommodation that's just a few steps from the sand of Arenal d'en Castell. This Blue Flag beach is one of the jewels of the Mediterranean, with soft golden sand and clear waters.
Visit during the summer season and you'll find welcoming bars, restaurants and karaoke venues nearby. There are also plenty of sun loungers and parasols for hire on the shore – perfect for relaxing in the Menorcan sunshine. If you prefer to jump in, there are lots of opportunities to get you into the water, including pedalo boats and snorkelling. Like to travel outside of peak times? You'll find a quieter but no less stunning stretch of sand that offers the best of Menorca's landscape, all within a hop, skip and a jump from your hotel.
Family-friendly facilities
As if that amazing beachside location isn't enough, Club Hotel Aguamarina is also brilliant for families. With an on-site waterpark, a playground and an entertainment programme for all ages that runs throughout the day and into the evening, there's always something fun to do. It doesn't matter whether your little ones love kids clubs or you prefer to stay together during your stay, we know you'll never want your holiday to end.
Club Hotel Aguamarina has an animation team dedicated to creating a great atmosphere and keeping you and your family entertained. For tiny guests, there's a Baby Club (ages 2-4). And there's also the Mo Club (ages 5-8) for little holidaymakers and the Maxi Club (ages 8-12) for older children. There are mini discos and weekly show for them to participate in too. Other events and activities include an escape room, foam parties and organised games.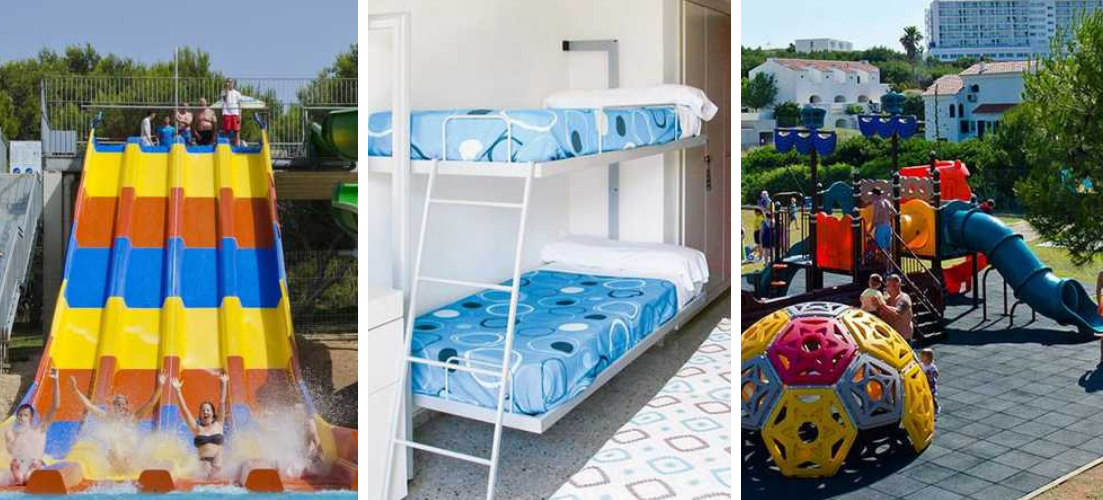 Pocket-friendly prices
This three-star hotel offers a lot of bang for your buck. As well as a beachside location and family-friendly atmosphere, you'll find everything you need for your perfect beach holiday here. Wander through the hotel's attractive gardens and you'll discover five swimming pools, a hot tub, two restaurants and plenty of pubs. There's even a gym and a sports centre, with a climbing wall and a zip line if you really like to be daring. Your stay at the Club Hotel Aguamarina will be low on price but high on fun in the sun.
Click here to learn more about holidays to Menorca…