The Algarve is great for a number of reasons. Amazing weather all year round, traditional cobbled villages and glorious hospitality are just some of the reasons why tourists keep flocking back to this Portuguese paradise. Unsurprisingly, the Algarve is also home to 88 blue flag beaches, some of which you'll find on our beach holidays page.
What is a blue flag beach?
A beach is awarded a Blue Flag certification by the Foundation for Environmental Education when it meets the required environmental standards set by the FEE.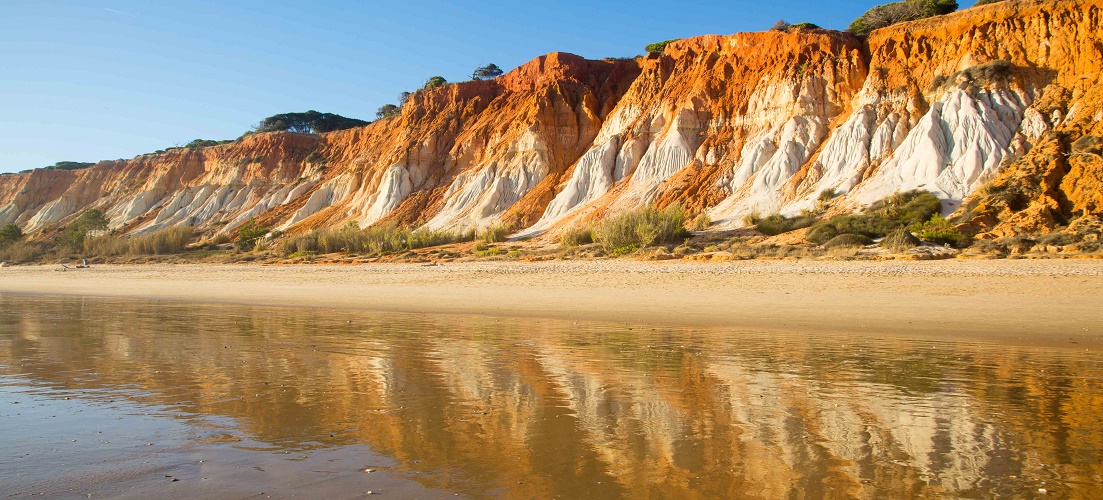 Albufeira
A popular choice with holidaymakers, Albufiera boasts the most Blue Flag Beaches in The Algarve with a huge 25. Considering that the resort offers a 20 mile stretch of sand, this should come as no surprise.
Praia de Santa Eulalia
The blue sea and the bright colours of the sand blend together with the surrounding greenery to create a diverse yet breathtaking landscape. The beach is large and offers a number of nooks and crannies perfect for those looking to explore their new surroundings.
There's also a small promenade along the central part of the beach lined by tall palm trees and perfect for a quiet stroll.
Praia dos Alemaes
Offering the perfect mix of natural beauty and urbanisation, this beach continues to prove popular with tourists. You'll find patches of stone pines alongside giant trees, while closer to the beach lay beautiful sea orachs and reed beds that have developed over time.
The wooden walkway provides easy access for those looking to explore while friendly beach bars are dotted around for those in need of refreshment…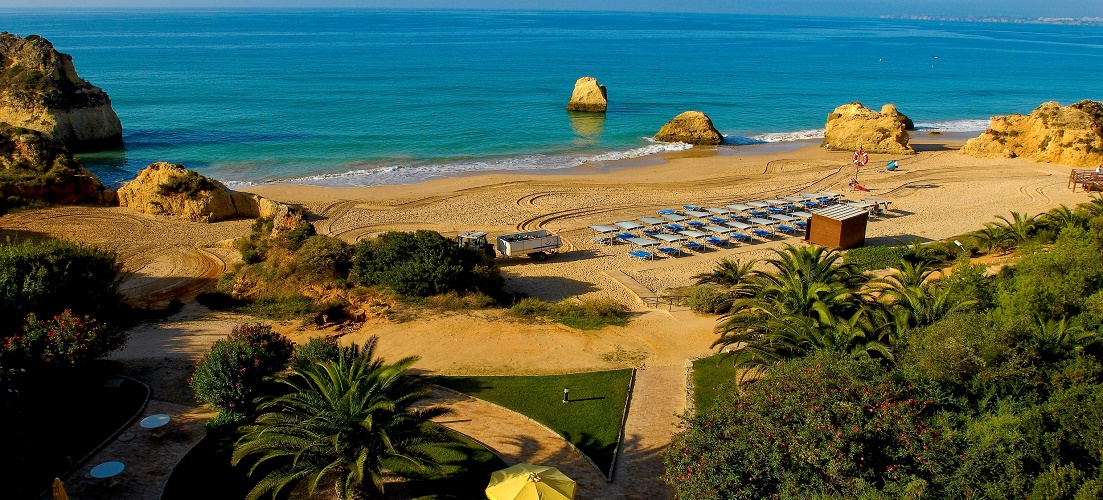 Praia da Falesia
One of the largest beaches in Albufeira, Praia da Falesia stretches for more than 3km, lying in front of a continuous line of high cliffs which create an incredible backdrop. There are also a selection of beautiful plants growing around the hills, including Sea Daffodils and Cretan Trefoil.
As this beach is so vast, there are many peaceful areas dotted around where you can really enjoy the surrounding beauty.
Loulé

With 10 blue flag beaches, it is highly recommended to visit the beautiful town of Loule. Take advantage of the magnificent view from the top of the hills or enjoy a slice of tradition with local artisans stitching leather along the cobbled streets.
Praia de Vilamoura
Situated between the marina and the dock in the town of Quarteira, this beach is definitely unique. As well as the golden sands and crystal clear waters, visitors will also find a leisure complex where you'll find golf, a casino and cycle tracks.
Vilamoura is also special as it has its very own Environmental Park where you can observe over a hundred species of bird.
Praia de Quarteira
What was once a peaceful fishing village, Quarteira has continued to develop into the major tourist hub it is today due to the growing demand for beaches. But not all has changed as fishing is still a favourite activity on the western side of the beach.
Running along the seafront you'll find a lively street packed with restaurants, cafes and lots of entertainment.
Far from the hustle and bustle of the lively tourist areas, Praia do Forte Novo can be found in the eastern end of Quarteira. Characterised by the surrounding cliffs, the sea regularly reaches the foot of the cliffs exposing pine trees and their roots.
This beach is ideal for those looking for a more peaceful and idyllic place to admire the views and really relax.
Lagoa
The town of Lagoa is still very traditional, boasting cobbled streets, rustic houses and a huge focus on old-fashioned crafts and pottery. On top of this, Lagoa is home to 6 blue flag beaches which all promise golden sands and clear waters for everyone to enjoy.
Praia dos Caneiros
Framed by high cliffs made up of alternate strips of colour, Praia dos Caneiros is a very diverse beach. The impact of sea erosion is visible at the bottom of these cliffs, leaving some impressive caves, while the remains of a landslide are also apparent in what can be described as an extremely diverse landscape.
Praia do Carvoeiro
What was once an old tourist village, Carvoeiro is now a small tourist centre owing to its calm waters and safe beaches. Tall cliffs surround the beach and are covered in greenery with enormous caves below just waiting to be explored.
Make sure you look out for the brightly colours fisherman's boats that bob up and down in the water that are used for fishing purposes and for cave expeditions.
Praia do Pintadinho is home to some spectacular shapes that have been produced from limestone as a result of sea erosion. The foot of Ponta do Altar at the most northerly part of the beach is now an enormous vault featuring two arches as was made as a result of this erosion.
You'll also be treated to fantastic views of the River Arade and on a really clear day it's possible to see the city of Portimao.
Fancy seeing one or more of these 88 blue fag beaches for yourself? Check out our Algarve deals here.
Image rights: Algarve Tourism Bureau