Still have a few days of annual leave and not sure how to use them? Jump on a plane, grab your hand luggage and enjoy a midweek break in the sun in one of our best short break destinations…
5) Malta
With its combination of beautiful beaches and breathtaking culture, the island of Malta is one of the most visited short break destinations. The picturesque island is also a hit with filmmakers and boasts the likes of Troy, Gladiator and the newly-released Murder on the Orient Express as just a handful of movies that have been filmed here.
Enjoy an evening or two dancing until the early hours at Numero Uno or Gianpula, two of the Malta's largest open-air nightclubs, or sip cocktails under the stars in St Paul's Bay.
If you love nothing more than relaxing on the beach with a cocktail in hand, you won't be disappointed with Malta's offering. Mellieha Bay is Malta's longest sandy beach stretching across 800m. The crystal clear and shallow waters also make this beach perfect for family holidays. For a more active beach experience, head to Golden Bay Beach.
Flight Time: 3 hours
Take a look: Malta holidays

4) Tel Aviv
If you don't mind a slightly longer flight, a trip to the quirky city of Tel Aviv is perfect for a few days of exploring. Traditional meets modern in this melting pot of history and culture and with Jerusalem just an hour's drive away, you can even visit two cities in one go.
Tel Aviv is great for a night on the town thanks to its thriving nightlife. Kuli Alma, which boasts chilled-out beats and a vibrant design, was recently voted the best bar in the city while The Block's electro sounds and regular DJ appearances make this a hotspot for club goers.
The big waves at Jaffa Beach make it a hit with surfers, while families tend to flock to Metzitzim to take advantage of the shallow waters and chilled-out atmosphere.
Flight Time: 5 hours
Take a look: Tel Aviv holidays

3) Ibiza
Ibiza is the ultimate party destination and with a short flight time, it's unsurprising that holidaymakers continue to return year after year.
The resort of San Antonio is home to super-clubs such as Pacha and Space, while you'll also find long, sandy beaches (the perfect place to nurse your hangover). Ibiza also boasts one of the best beach sunsets in Europe, so make sure you don't miss out on what promises to be an Instagram-worthy moment.
Away from the livelier resorts, Ibiza is also great for quieter breaks exploring the culture and history of the island. The Archaeological Museum is divided into six sections and hosts objects and artefacts from Ibiza and the neighbouring island of Formentera that span over 3,000 years.
Flight Time: 2.5 hours
Take a look: Ibiza holidays

2) Barcelona
Barcelona can usually be found towards the top of short break recommendation lists and this is no exception. There is so much to do and see in the city that you literally won't stop.
Take a leisurely stroll around Park Guell and explore the work of Gaudi, not to mention the breathtaking views of the city from the top of the park. A visit to the Sagrada Familia is also highly recommended and if you're a football fan, Camp Nou is an unmissable experience.
As well as having all the perks of a city, Barcelona is also a popular beach destination. The area of Barceloneta has over 4.5 miles of golden sand, including the Sant Sebastia and Levante.
Flight Time: 2 hours
Take a look: Barcelona holidays

1) Majorca
Majorca can sometimes be overlooked as a short break destination, but when you look at the facts it's the perfect choice for a few days in the sun. With a mix of sun, sand and sightseeing opportunities, the largest Balearic Island is our top pick for a short break.
The capital city of Palma is home to the beautiful Palma Cathedral and a huge range of restaurants, bars and nightclubs.
There are also 3 beaches in Palma, including the Blue-Flag Playa Palma Nova which boasts 500 meters of white sand and shallow waters. You can also enjoy a stroll along the promenade here, which leads all the way to the lively resort of Magaluf.
Flight Time: 2.5 hours
Take a look: Majorca holidays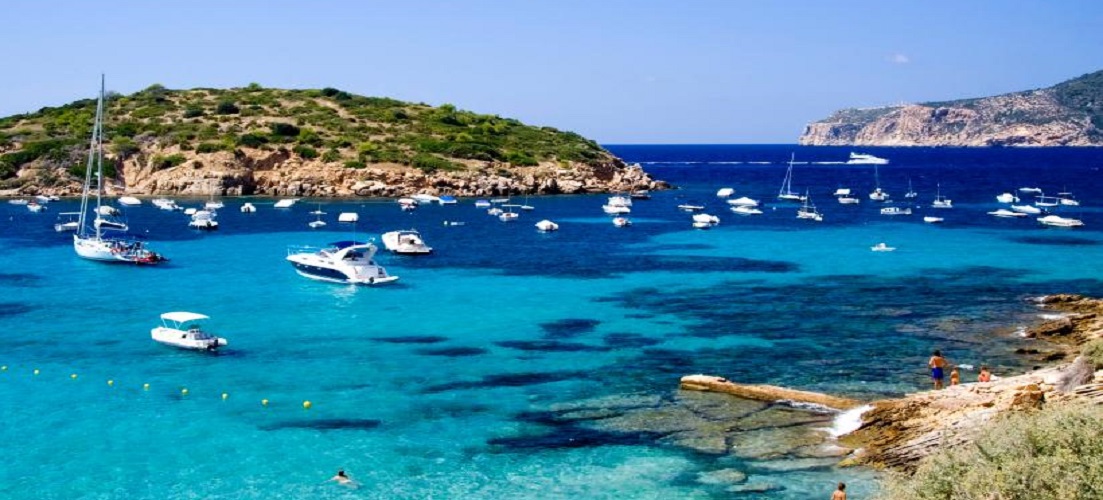 Find out more about how to make the most of a short break