Wales is home to some of the UK's most stunning beaches, many of them with top rated Blue Flag status. A large proportion of the country is surrounded by water, and with 750 miles of coastline, it's not surprising that its beaches and bays are amongst Wales's finest assets (after rugby of course).
Wales's seaside resorts, such as Mumbles (home to the infamous 'Mumbles Mile'), Tenby and Llandudno have oodles of character and are popular with all types of holiday makers. Tenby is as popular with stag and hen parties as it is with families, while Llandudno is both a haven of tranquillity and a heaven for watersports enthusiasts. What's more, Wales's major cities sit on the coast. Cosmopolitan Cardiff is home to the vibrant Cardiff Bay area, and Swansea has its own Maritime Quarter, so both have strong connections with the sea. Here's our guide of the best beaches in Wales…
Tenby Castle Beach, Pembrokeshire
This superb, blue flag sandy beach disappears altogether at high tide, but is truly excellent at low tide, especially between Castle Hill and St Catherine's Island (which is out of bounds, unfortunately). Catch a boat to Caldey Island from here at low tide when the harbour is dry, and visit the world famous monastery. Or have a paddle in the turquoise water before heading to the seaside town centre for an ice cream.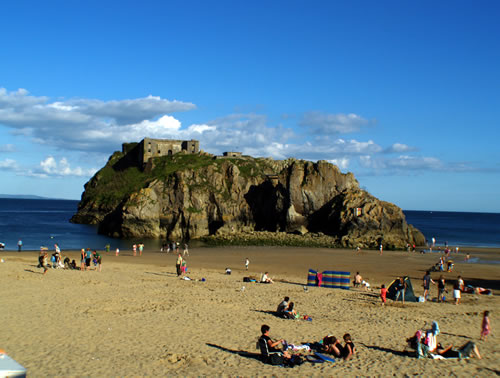 Broadhaven North
Broadhaven is a beach of two halves. Boasting a long, narrow beach of pebble and sand at high tide, it can get a little cramped, but at low tide a huge expanse of sand appears, with plenty of room for everyone, and it's absolutely perfect for families thanks to the shallowness of the water and no current. The cliffs on both sides provide shelter from any wind, and if you fancy a clifftop walk, head around to the south side at low tide into another bay called The Settlands. Still going? Walk round the next mini peninsula to Little Haven. A word of advice, though: keep an eye on the tide in this area!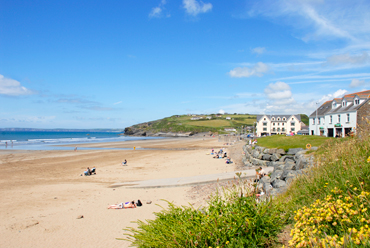 Armroth Beach
Ideal for a family day out, Armroth Beach is a half mile long, flat, sandy beach. There's an enormous expanse of sand at low tide for all sorts of beach games, such as beach volleyball, kites, football and beach cricket. Kids will love the Rockpools which can be found at the western end. The stones are smooth and there are crabs aplenty to be chased!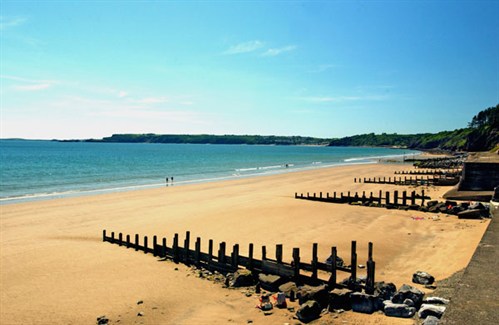 Caswell Bay, Gower
Great for youngsters, Caswell Bay is flanked by a line of brilliant beach cafes and bars. Yet another Blue Flag beach, it attracts visitors from far and wide, including families, surfers and teens from the local area. It's not far from Mumbles, so if you fancy a bit of a boozy weekend, the infamous Mumbles Mile is on your doorstep.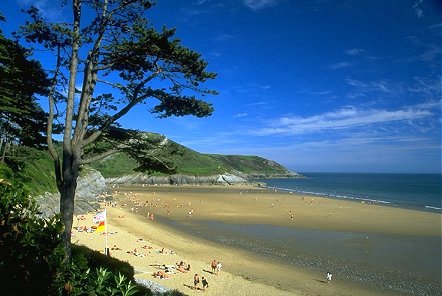 Langland Bay
Popular with surfers, Langland Bay sits snug between two headlands. It is a sandy beach, fringed by great little huts, and is a popular beach with both visitors and locals all year. Another place to while away the hours before a big night out, Langland is only a short walk from Mumbles and offers a great range of facilities. Surfers love breaks like The Sand Bar, Crab Island and Lefts. It's a 2.5 km walk along the stunning coast to Caswell Bay.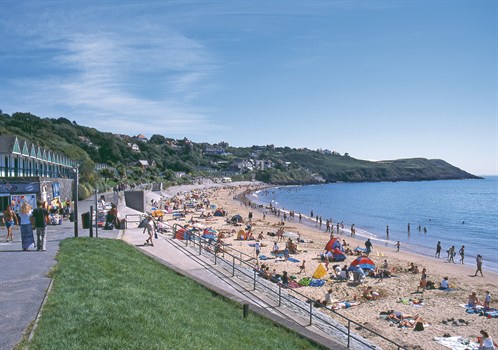 Llandudno North
Llandudno's North Shore offers seaside nostalgia by the bucketload. If you want good old fashioned ice cream vans, buckets and spades, a worn out Victorian pier and a long promenade, Llandudno is the place for you. Great for family days out, the sandy West Shore has a safe, dedicated play area on the sea front, with impressive views of Anglesey and the mountains. Don't miss the awesome sunsets over the horizon. Up for climbing Snowdon? Llandudno is only 27 miles from Llanberis, at the foot of Snowdon.
Colwyn Bay
Ideal for swimming, water sports and even fishing, Colwyn Bay and Rhos-on-Sea's beaches are hugely popular with holidaymakers, but also much loved by locals. Cycling and walking along the coastal tracks are popular activities. If you're travelling with youngsters (or are a youngster yourself!), Penmaenmawr's promenade features a skating park, paddling pool and play area for children. For another dose of beach nostalgia, there's a row of traditional beach huts, too, if you fancy a dip the old fashioned way.