It's not just pensioners and the wealthy that will be affected by the budget cuts. Regular holidaymakers could lose out too.
The proposed increase in APD (that's Air Passenger Duty to you and me), means an increase of nearly 10% in levies, adding an average of £52 to the cost of a family flight* to Spain and other European countries. Call us biased, but we don't think Mr Osborne goes on holiday much.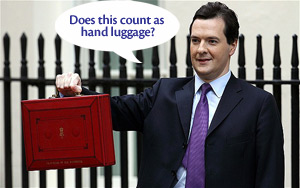 Whatever you think about the Chancellor's announcement, chances are you're not feeling much richer. In fact, you probably feel like you need a holiday… but how will you afford it with the extra costs? We're here to help. Early booking, some clever packing and getting your board spot on are just some of the ways you can save money on holiday. Read on for our expert tips…
Travel off peak (you can do this without taking the kids out of school!)
If you have school-age children, you're probably more than aware that the price of package holidays soars during half term, Easter, summer and Christmas holidays. However, if you can wait until the last week of August to travel, flight and hotel prices drop by around 20%. Safe bets for cheap late summer family holidays include Spain and Greece. No kids? The extra flexibility should save you even more!
Choose your board wisely
To self-cater or to go all inclusive: that is the question. The answer often depends on whether you're travelling with children or not. Going all inclusive can take a lot of stress out of a holiday, but finding a cheap all inclusive deal can be risky. There's not much point in paying for all your meals and drinks if the food is inedible and the drinks come in thimble sized glasses. On the Beach offers excellent all inclusive holidays at budget-friendly prices, but always research your hotel before booking.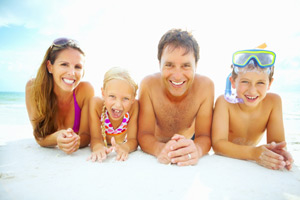 Wherever you go on holiday, self-catering apartments generally work out cheaper to book than hotel rooms. You might feel that fending for yourself on holiday kinda defeats the object, but whether you're a family of four, a couple or a group, you can make it work. Buying food from a local supermarket works out significantly cheaper than eating in restaurants and you know exactly what you – and your kids – are eating.
Fill up at lunch
Another way to save on food is by eating your main meal at lunchtime. If cooking really isn't your thing and part of what makes a great holiday is the treat of eating out, do it at lunch time when many restaurants offer fixed price menus for up to 50% less than the cost of dinner ones. Then head back to the beach or pool to sleep it off in the sunshine.
Book well ahead!
This counts for a number of things, including flights, accommodation, airport parking, an airport hotel and transfers. Last minute holiday deals are a thing of the past. Airlines release their cheapest seats around 9 months in advance, so if you want the cheapest deals, early really is the new late. If you're yet to book your summer holiday, don't leave it too late as prices will creep up by the day. The same is true of accommodation rates. Book early and you'll benefit from the best prices and the best choice of rooms. You can also save a packet on airport parking by booking early and choosing a car park off-site. Sound like a hassle? Many off-site car parks charge up to 50% less than official airport car parks, and you'll be dropped off and picked up at your terminal on request. Beats a sweaty shuttle bus any day!
Save on luggage. You don't need that extra pair of shoes.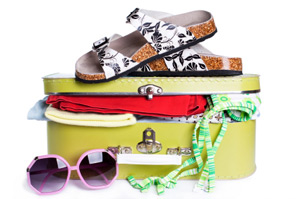 The ever-increasing fees for hold luggage charged by most no-frills airlines (not mentioning any names) can add a significant amount to final flight prices. Think about it: do you really need a suitcase each? Can you do without that extra pair of gladiator sandals? If you have two children, can they share a case? Make full use of the hand luggage allowance; if it's a short break, you could probably do without any hold baggage at all. No hair straighteners = sexy beach hair!
And finally… Flash the plastic
Please note: This tactic only works if you pay off your credit card balance every month! If you do, the best, safest and most cost effective way to spend money on holiday is to use your credit card to pay for as much as you can. Many credit card companies offer insurance on purchases made with the card, and you won't lose out on exchange rates and charges for buying cash. Do make sure your payments are not being processed in Pounds Sterling, however. Make sure you're being charged in local currency as this will be the exact price rather than a poorly converted one.