August is great for many reasons; the temperature is at its highest (most of the time!), the kids are still off school and we're getting invites to neighbours BBQ's left, right and centre. August also marks National Golf Month so we've chosen our favourite hotels that offer a combination of golfing facilities and beautiful beaches…
Algarve
Golf has been a big part of The Algarve since the 1920's and the first traditional grass course was built by Sir Henry Cotton in 1966. The course still exists in the grounds of the 5* Le Meridien Penina Golf & Resort in Alvor.
You'll find golf courses dotted up and down the Algarve coastline, including the championship course of Quinta da Logo so no matter what your handicap; you'll find exactly what you're looking for here…
Offering direct access to Alvor Beach, this 4* hotel is well-situated for those looking for a golf break with time to relax as well.
Take advantage of the range of sports the hotel offers including scuba diving and bowling or if you prefer head down to the spa to enjoy a handful of therapeutic treatments.
Good to know: Holidaying with the family? Pestana Kids Club offers great entertainment.
This luxury 5* hotel in Vilamoura, Portugal is the perfect choice for those looking to combine relaxation with sporting activites.
Offering a panoramic view of the Victoria Golf Course, you can also enjoy 4 swimming pools, Spa with 7 treatment rooms and for those looking to warm up before a game of golf, a gym.
Good to know: Rooms dedicated to children up to the age of 10 are available.
Located in the heart of the popular tourist area of Vilamoura, this hotel is perfect for those looking for a mix of sports, entertainment and relaxation.
The hotel also boasts a children's area, snack bar and sauna and the sporting possibilities are endless with a choice of basketball, tennis and snooker.
Good to know: Located just 450m from the beach.
Useful links:
5* Le Meridien Penina Golf & Resort
4* Pestano Dom Jao
5* Tivoli Victoria Hotel
4* Vila Gale Amplius
Tenerife
Locations for golf fans don't come much better than Tenerife. Basking in glorious sunshine all year round, the largest Canary Island also offers some breathtaking scenery, providing the ultimate backdrop for your next round.
Tenerife has hosted a variety of different competitions over the years including the Amateur Spanish Championship and International Spanish Open. It comes as no surprise then that the island is currently home to 9 golf courses, each with its own unique style and terrain.
The Aguamarina Golf Hotel boasts a great location overlooking the Atlantic Ocean and is located between the Golf del Sur and Armarillo Golf Courses.
If you want to enjoy a relaxing day, the hotel is just 150m from the nearest pebble beach with a free shuttle bus that takes you to Los Cristianios and Las Americas.
Good to know: Discount applies on golf course fees when staying in this hotel.
Our favourite thing about this luxury hotel is its infinity pool which overlooks the Buenavista Golf Course, offering breathtaking views that you don't want to miss out on.
Aside from the spectacular views, the hotel also offers a fully equipped gym, indoor relaxation area and a heated dynamic pool.
Good to know: All rooms feature a flat screen satellite TV.
Located directly next to the 27-hole Golf de Sur golf course, you only have to roll out of bed and you're practically ready for your first round of golf.
The hotel also has 8 swimming pools, a boating lake and a spa featuring all the beauty treatments you can imagine.
Good to know: The hotel is located on the beach.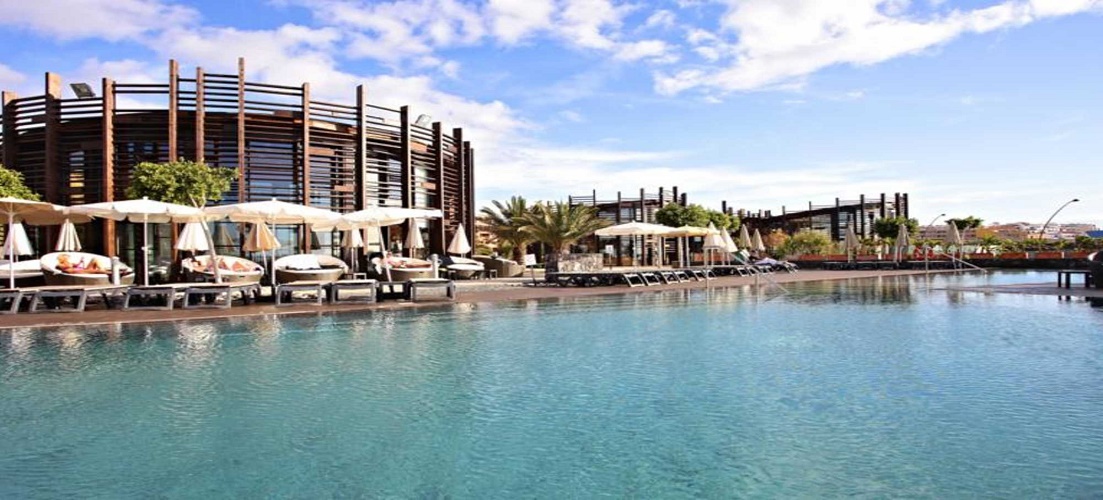 Useful links:
4* Aguamarina Golf Hotel
5* Melia Hacienda Del Conde
5* Sandos San Blas Nature
Don't miss out and book your golf break today!