Last month, a friend and I were lucky enough to spend five nights at the 5* Azia Resort & Spa in Cyprus. It was the first time visiting the island for both of us, so we were thrilled at the prospect of being introduced to the island with this wonderful hotel as our home for the length of our trip.
Before we arrived, we'd looked at the Trip Advisor reviews and scoured Instagram and we were blown away. The hotel staff were regularly singled out in these reviews for their dedication and friendly nature so we couldn't wait to experience this for ourselves.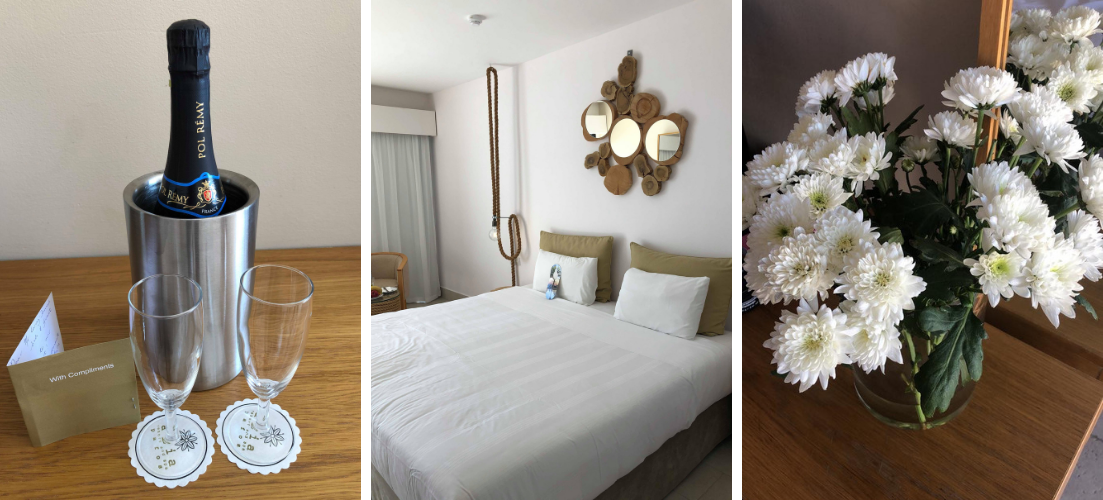 What a welcome
After a speedy transfer from the airport, (we booked a private taxi that took around 25 minutes), we walked into the huge hotel lobby and were greeted by two very friendly receptionists. We were quickly shown to our room on the fifth floor which had a private Jacuzzi on the balcony – talk about fancy.
Once our suitcases were unpacked, we headed down to the large pool area to catch the rest of the afternoon sunshine (at a toasty 27°C – we were in paradise). Within minutes, a member of the pool bar team (who did an amazing job!) had taken our drinks order and we could sit back and relax knowing our drinks would be with us shortly.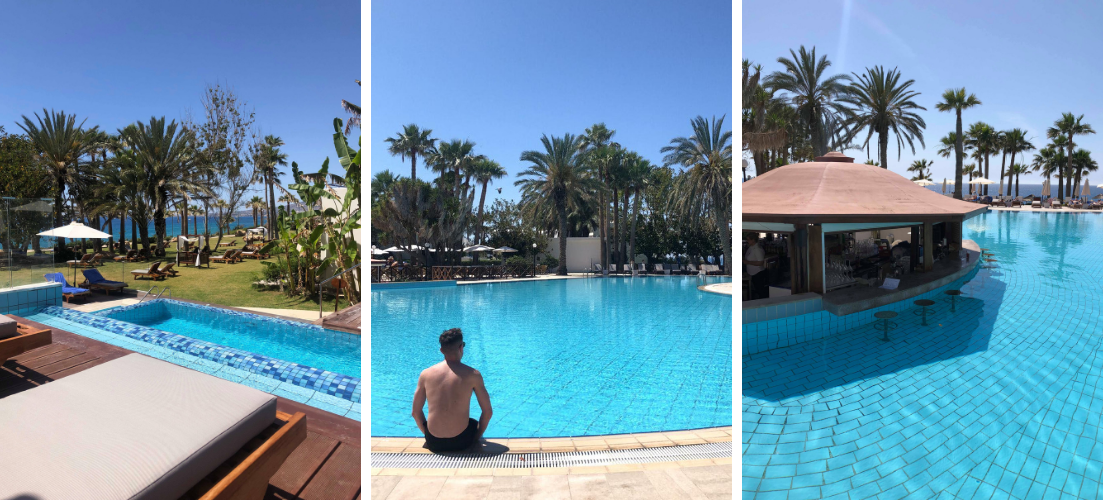 Food fit for a king
As self-confessed foodies, we were blown away with the many different food options at the Azia. Breakfast, lunch and dinner were served in the main buffet-style restaurant while there were also a range of a la carte restaurants dotted around the resort.
The buffet didn't disappoint with a wide selection of options for each meal. What we really loved was how well labelled each dish was – my friend suffers from gluten, dairy and wheat intolerances but found it really easy to find dishes she could eat due to the clear labelling system.
We spent an evening each at both the Cipro Italian restaurant and Oku, which served a mix of Japanese and Teppanyaki dishes. We sat outside for both meals, offering breathtaking views of the sea and hotel grounds. The food itself was ridiculously tasty as well – I'd highly recommend the Thai chicken curry from Oku and lasagna from Cipro.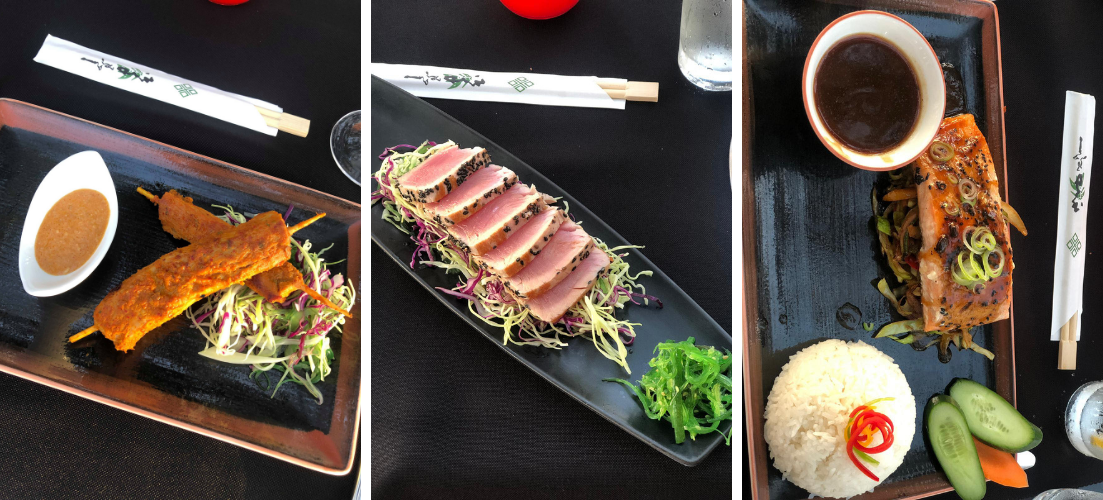 Sit back, relax and be entertained
Each night after our evening meal, we headed to the Cava Bar to sample the cocktail menu. With different singers on each night, it was the perfect way to wind down – the Cuba Libre is highly recommended. Live shows also took place each night with some of our highlights featuring acrobatics and Cuban dancers.
During the day, activities such as darts, yoga and water polo were happening in and around the pool, while there was also a kids club which offered a range of activities for those ages 2-12. A huge tennis court can also be found in the hotel, perfect for those looking to indulge their sporty side.
Potentially our favourite part of our stay – yes, there really are that many – was our trip to the spa. We booked in for a couples massage and it did not disappoint. Once we'd changed into our robe and slippers, we were greeted with a refreshing glass of water and a hot towel to cleanse our faces with. After this, we were led to a room where we enjoyed a 30-minute massage, before we were shown to quiet room where we sat back, relaxed and enjoyed some fresh fruit.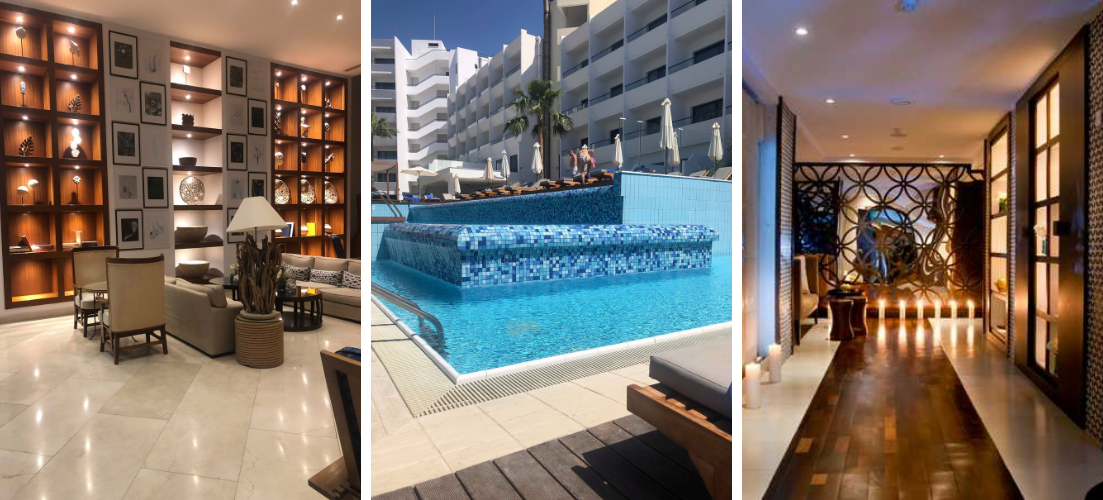 Location, location, location
The hotel is situated just a short drive from the airport and benefits from a quiet location which is perfect for a relaxing holiday. There's a small beach about a 5-minute walk away from the hotel – if you're a big fan of watching the sunset, this is the perfect place to do so. You can also find a small pub and shop next to the hotel.
For a taste of traditional Cyprus, we jumped in a taxi to Tombs of the Kings which cost us around €10. Just a bit further up the road was a stretch of bars and restaurants perfect for a spot of lunch and an afternoon cocktail.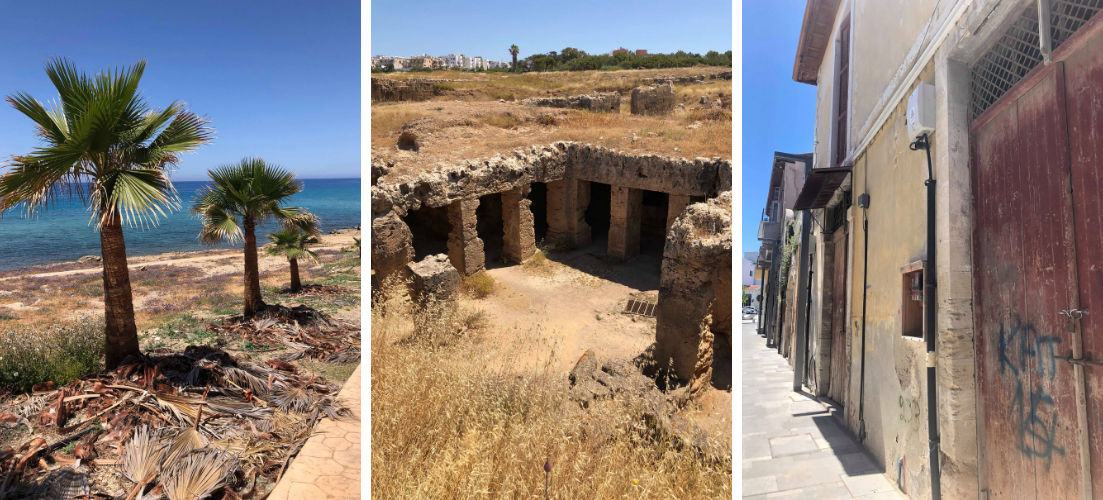 Our experience at the Azia Resort & Spa was incredible, there was so much to do at the hotel and the staff really couldn't do enough for us – once a week the management team lay on a reception – complete with nibbles and cocktails – where they get to know the guests. It's the small things like this that really make this 5* hotel one of a kind.
Exclusive offer: kids stay free for the month of August