If you conjure up an image of Marrakech in your mind, chances are you're seeing vivid bright colours, maze-like streets and the manic hustle and bustle of a Moroccan market, or souk. Found just off Djemma el Fna Square, the souks are the heartbeat of Marrakech and a lifeline for locals who call this wondrous city home.
Selling everything from handcrafted leather wares to ornate stained glass lamps, the Marrakech souks are a must-visit for any culture-hungry traveller (even the shopaphobics!). As you get to the entrance of the souk you'll see a hoard of people going about their daily business. A frenzy of loud vendors are selling their goods, aromas of sweet spices fill the air and you might even end up with a monkey on your shoulder (and no, we're not kidding). So, it's no surprise that visiting these rabbit-warren-like streets can be daunting, and even the most travelled wanderer can be overwhelmed by the souk's assault on your senses. But fear not, we're here to give you all the tips and tricks you need to know to navigate the souks like a pro!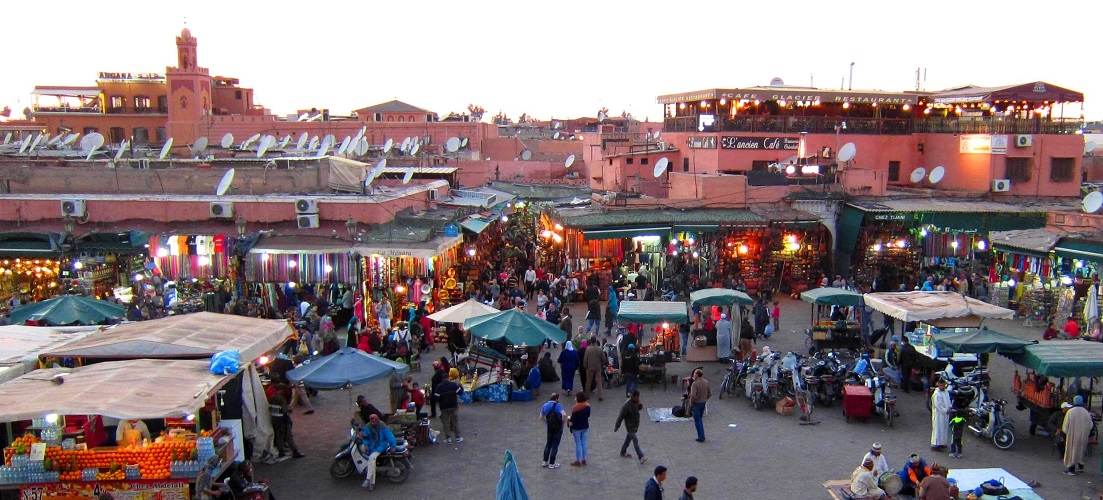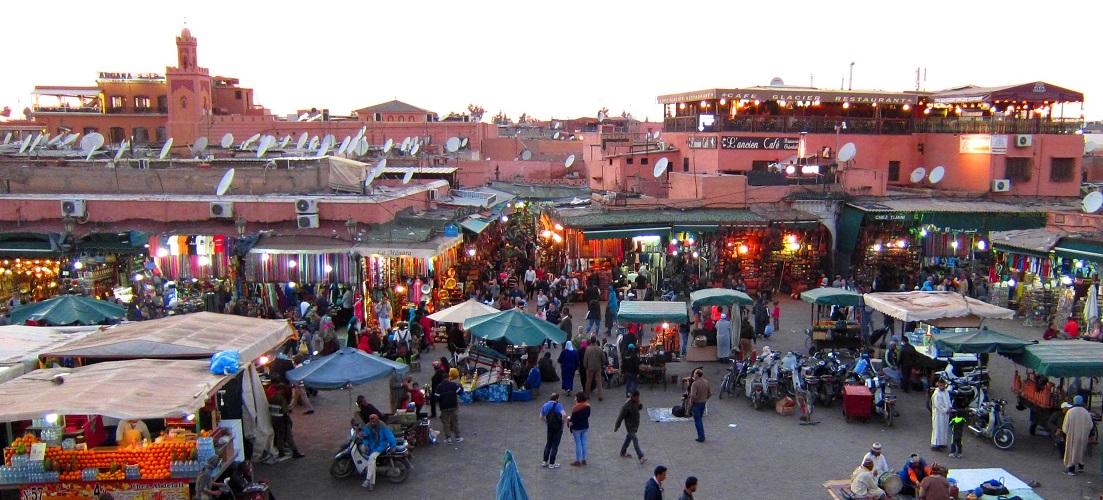 First of all, let's get to know the souks. Starting at Djemma el Fna, the souks are linked in a honeycomb fashion to one side. Stalls selling similar items are usually grouped together forming one souk, so, if you know what you want to look for, you can easily get a game plan together. The best way to discover this is to wander to the entrance of each souk and take a peek at what they are selling. Popular souks include the jewellery, spice, metalwork and slipper souks. Also not to be missed are the carpet, lantern and the leather goods souks.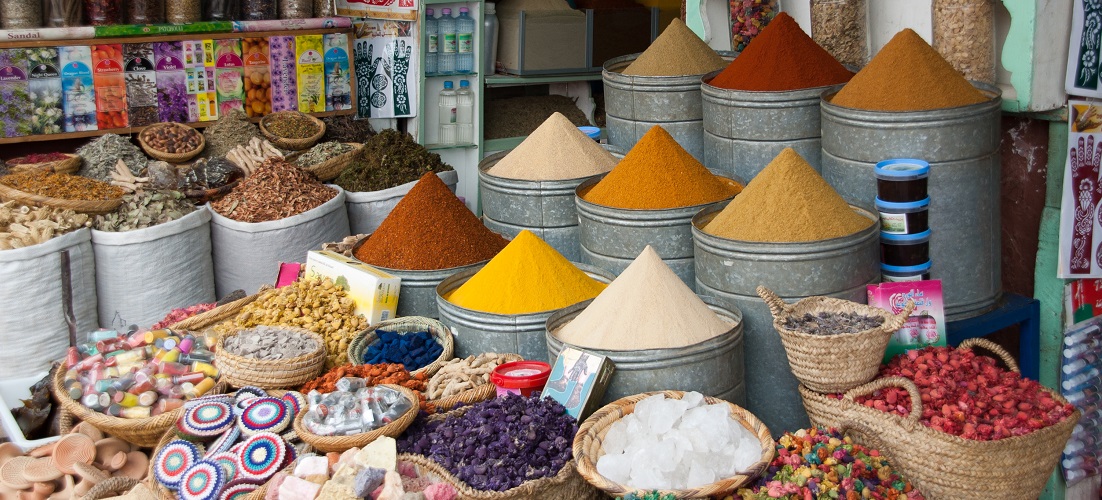 Tip #1 – Get your bearings!
Now, part of the fun is getting lost – and you will, it's inevitable. But, having a sense of where you are and where you need to be can come in handy, especially when you're trying to find that stall you wanted to come back to later! You'll find handy pocket maps in many shops and hotels – before you head into the souks, grab a coffee in Djemma el Fna Square and get to grips with which souks you want to visit and the best ways there. If that doesn't work then don't worry, ask for directions (but be aware, it might cost you!). Try to ask a shop or restaurant owner or a family as they're less likely to offer to take you there and then request payment.
OTB Top tip – Check out the souks on Google Maps when you have Wi-Fi in your hotel. You can cache the map or download it for later, meaning you can zoom in and get a good satellite image of where you are – even without Wi-Fi or data!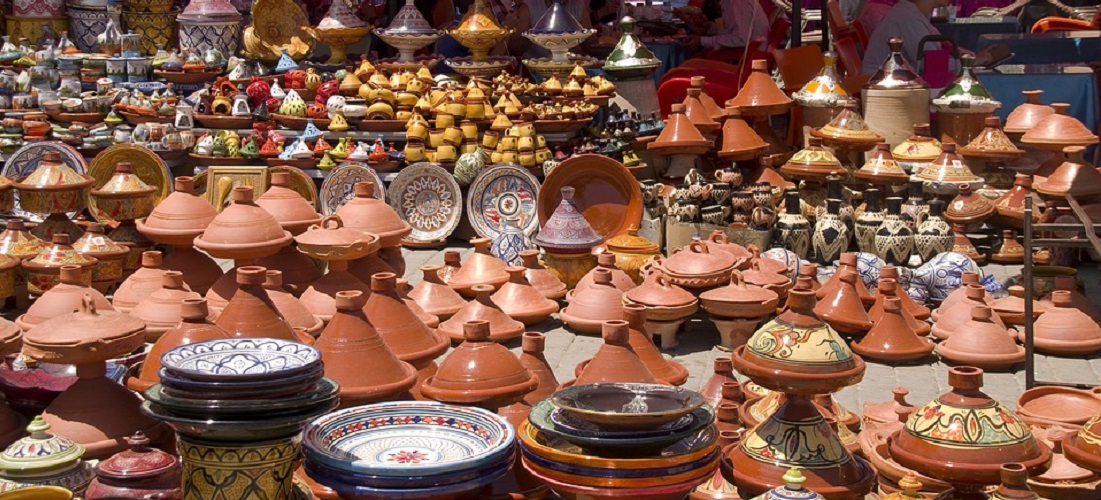 Tip #2 – Stay hydrated!
Although the majority of the souks are covered or shaded from the sun, it can still get very hot – after all, you are in Africa! So, grab a bottle of water before you start to explore and make sure you keep sipping it. No one wants to cut their day short because the heat got to them!
OTB Top tip – If your water is warm and not quite as thirst quenching as it was, duck into a little café and stop for a Moroccan mint tea. Much more refreshing!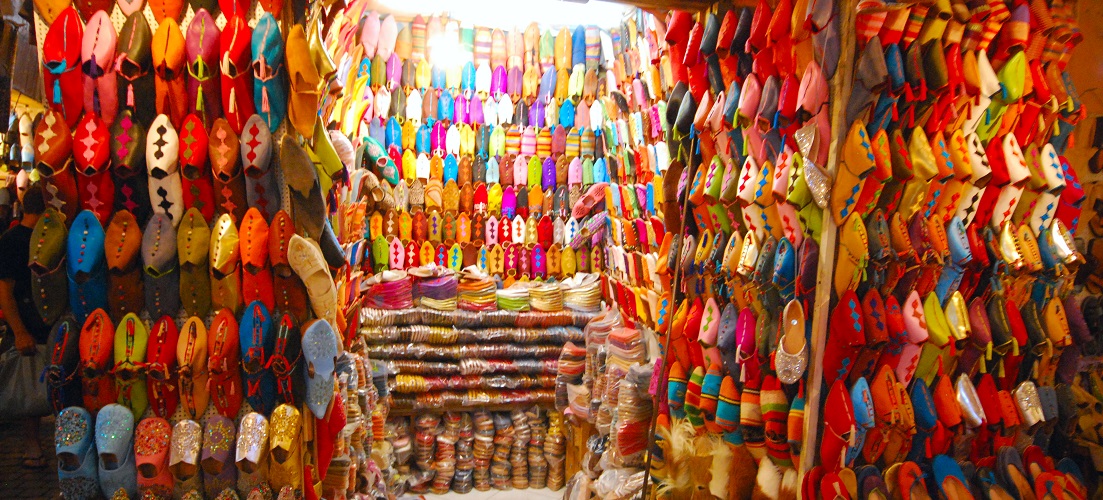 Tip #3 – Bag that bargain!
Once you're in the souks it's easy to be overwhelmed by the sheer amount of products on offer. Take your time, enjoy looking through the various stalls and don't buy the first thing you like. First of all, you'll be carrying it around all day, and second, there are hundreds more stalls – if you still like it later, you can go back! Once you've decided on your perfect purchase, it's time to buy. Brush up on your haggling skills to make sure you get the best price. Don't feel bad about this, this is a part of everyday life here and the ticket price is often a lot more than the product is worth!
OTB Top tip – The unwritten rule of negotiating in the souks is to go in with your first offer of around one third of the asking price. The seller will then bring their offer down. Keep going until you are happy with the price. Have a limit in mind that you are happy to pay, if you can't get it for this price, don't feel like you should increase – there's probably a dozen other stalls selling similar (if not the same) items!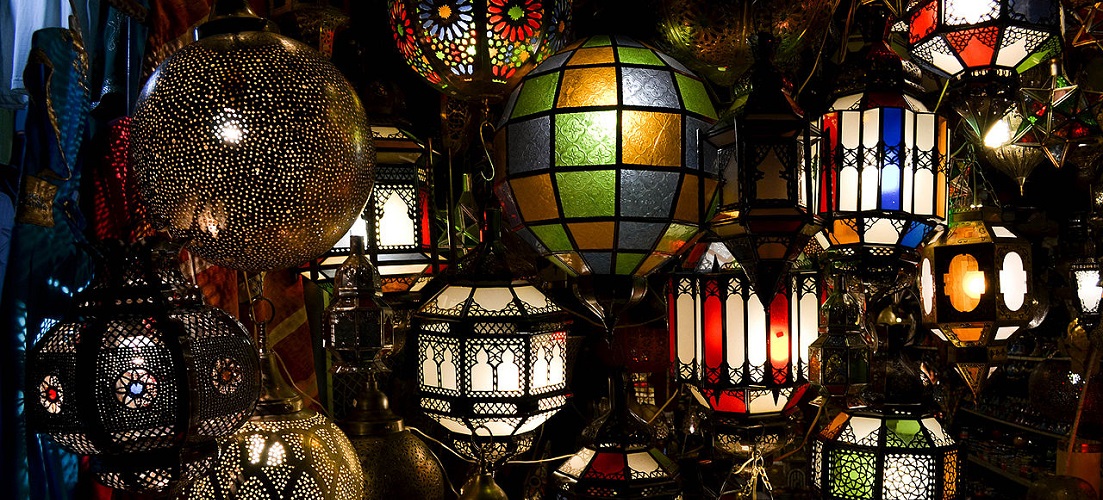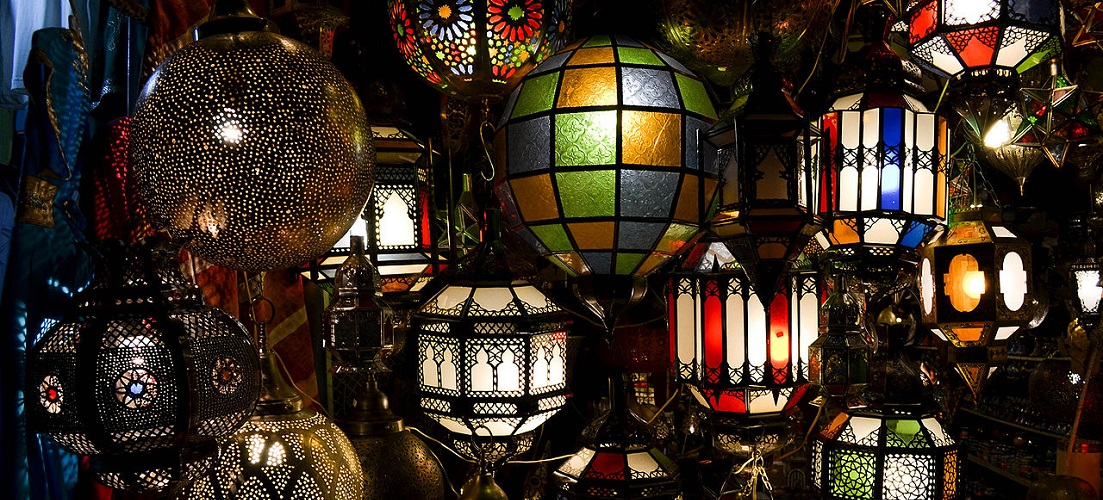 Tip #4 – Quality check your purchase
There are hundreds of stalls here. Some are local people selling handmade artisanal products that are one-of-a-kind and a definite must-have if you're looking for something to take home. However, to keep up with the rising demand, there are also stalls selling imported products from places such as China, for the same price. Make sure you check your items before sealing the deal!
OTB Top tip – To quickly check the quality of your items look at things such as seams and zips. Are the seams hand sewn and neat? Are the zips in working order and of good quality? Does the leather smell genuine? Are the soles of the slippers made from quality material, or are they substituted with plastic? You get the gist!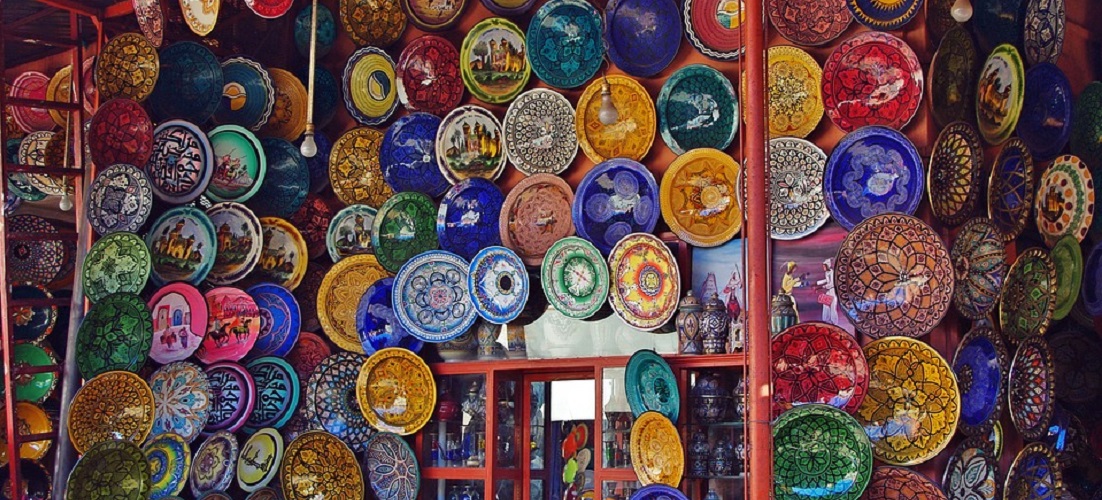 Tip #5 – Keeping the kids happy
You want to shop until you drop, the kids not so much. Why not make the souks into a fun-filled day out for your little ones? Keeping the kids engaged with something they can get involved in is a sure-fire way to keep them interested for hours. How about turning the day into a scavenger hunt? Give them items to spot and see how many they can find on your journey.
OTB Top tip – Download or make a scavenger hunt chart before you leave the hotel. This gives them something to look forward to and engages them throughout the day. Check out this one that you can print at home.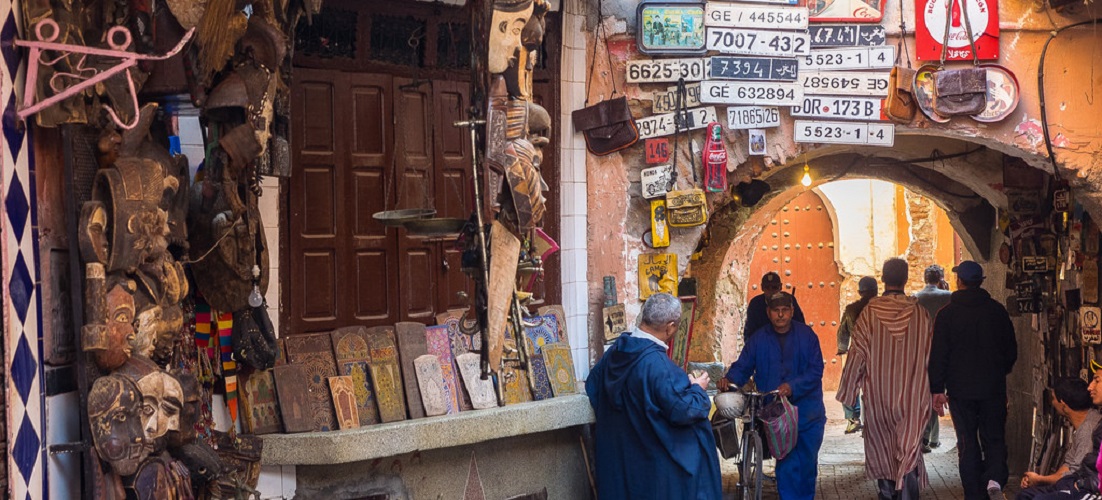 Tip #6 – Safety
Like any busy city, you may find pickpockets operating within the souks. Reduce your chances of losing your belongings by only taking out the essentials. Do you really need to take a handbag or backpack? Keep your phone in your hand and money safely secured.
OTB Top tip – Marrakech is a religious city and people dress conservatively. Wearing clothing that covers your shoulders and knees will help you blend in and not stick out as a tourist.
Heading to Marrakech soon? Check out our handy guides of fantastic things to do for couples and families!
Not booked yet? Learn more about Marrakech and take a look at our amazing range of Marrakech holidays here!