Picture this… you're finally on your first Spanish holiday in what feels like forever. The sun is shining, the sand is warm on your feet and the waves are lazily lapping the shoreline as you soak up the sun. Sounds good, right? Right! But, there's only one thing missing from this perfect day – food! No Spanish getaway can be complete without trying the delicious local cuisine (and maybe washing it down with a sangria or two). A staple on any Spanish menu, we're here to give you the low down on the wonderful world of Spanish tapas. So keep reading and you'll know your albondigas from your patatas bravas in no time.

What is tapas?
From a king who used a slice of cured meat as a lid for his wine to a king who wanted to prevent public drunkenness, there are several theories out there as to why the Spanish enjoy delicious tapas dishes on every menu. All we know for sure is that tapas is one of the top reasons to visit the beautiful country of Spain.

Tapas, pronounced tapa in Spanish, are usually found on every Spanish menu. They are smaller portions of a given dish and designed to share or to be something to snack on. Occasionally you may see 'racion' next to a tapas dish – this means it is a larger portion and would suit two people. There are no rules or regulations on what constitutes tapas, other than it being a small portion. However, there are definitely some staple dishes you'll see across the whole of Spain, and they traditionally come served in small terracotta-coloured dishes.
Tapas vs Pinchos
Whilst tapas dishes are small variations of a meal and may be made up of many ingredients or one simple stand-alone ingredient, pinchos or pintxos are smaller nibbles designed to be just a couple of bites big. They are usually made up of three or more ingredients and served on bread. The name 'pinchos' comes from the Spanish verb 'pinchar', meaning to pierce, as the toppings are skewered to the bread to stop them from slipping off. These small and tasty little nibbles are often found in display fridges in many bars and tend to be an accompaniment to a good drink as opposed to in a restaurant setting.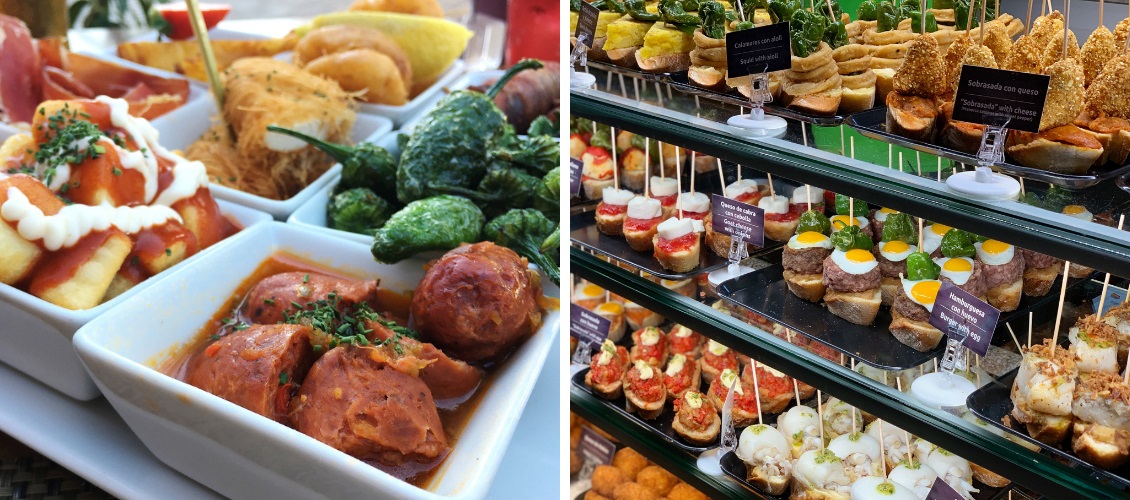 Must-try dishes
And now for the good part… What tapas dishes should you try on your next Spanish holiday? We've rounded up the best tapas dishes from across the country and popped them all here, in one handy place. So, whether you're into your seafood, meat or veggie dishes, we've found something for you. Take a look at our favourite tapas dishes below…
Meat
Croquetas – A staple on every tapas menu, croquetas or croquettes are made by combining bechamel sauce with another filling such as ham or chicken then deep-fried to golden perfection.
Iberico ham – One of the most popular cured meats in Spain is the world-famous Iberico ham. Known locally as the king of meats, this delicacy is usually sliced slightly thicker than serrano ham and has more depth of flavour due to the marbling throughout.
Huevos rotos – Or 'broken eggs' is a simple but tasty tapas dish, great for brunch! This dish is simply a perfectly fried egg sitting on top of fried potatoes combined with chorizo or ham and sprinkled with paprika.
Albondigas – Everyone loves a meatball – and these usually come served sizzling in a rich tomato-based sauce, what's not to love here?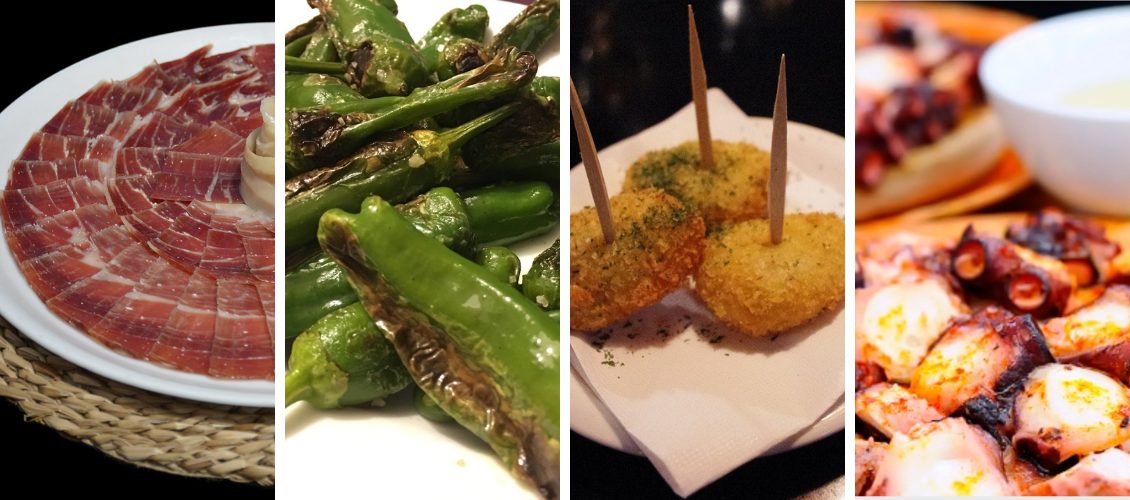 Veggie
Patatas bravas – A delicious side dish of crispy fried potatoes drizzled with a spicy sauce. You'll often find a good helping of aioli served alongside this one too.
Gazpacho – A super healthy and refreshing soup made of blended raw vegetables. Usually tomato-based, this soup is enjoyed best whilst sat in the hot Spanish sun.
Pisto Manchego – a rich tomatoey vegetable stew that is served with manchego cheese stirred throughout and topped with a runny fried egg. Perfection.
Padron peppers – Served simply blistered, these little peppers are a popular tapas and have a unique sweet and nutty flavour. Watch out though, one in ten peppers are a little spicier than the rest!
Seafood
Calimari – Also known as calamares fritos, is a dish of fried baby squid in a light batter and is usually served with aioli and a wedge of lemon. Sunshine on a plate.
Gambas al ajillo – A delicious dish of fresh prawns with punchy garlic and smokey paprika flavours, served sizzling to the table.
Pulpo a la Gallega – Originating in the Galacia region, this dish of fresh octopus wiith smokey paprika and potatoes is now popular across the whole of Spain.
Boquerones en vinagre – Fresh anchovies are marinated in a mixture of vinegar, olive oil, garlic and parsley and served raw.

Ready to escape to sunny Spain? We are too! Read more about sunny Spain here.