So, you've got some annual leave left and you want to make the most of it. Why spend time hoping for good weather, only to find your planned barbeque picnic will be a total washout? Thank you British summertime. Your timing is truly impeccable. Instead, how about you grab a couple of friends (or your partner, or your Nan – we don't mind) and head out on a bargain break to sunny Spain? It's exactly what we did and it couldn't have been better. Keep reading for a bit of inspo and see how we spent our 72 hours in Murcia, from the region's main city to the Costa Calida coast.
Day 1
Touch down at the brand new and very spacious Region de Murcia Airport and head off to pick up your car. Now you've mastered the car (well ish – you're probably going to try and constantly put your seatbelt on from the wrong side for the next three days) it's time to hit the road and head for Aguilas.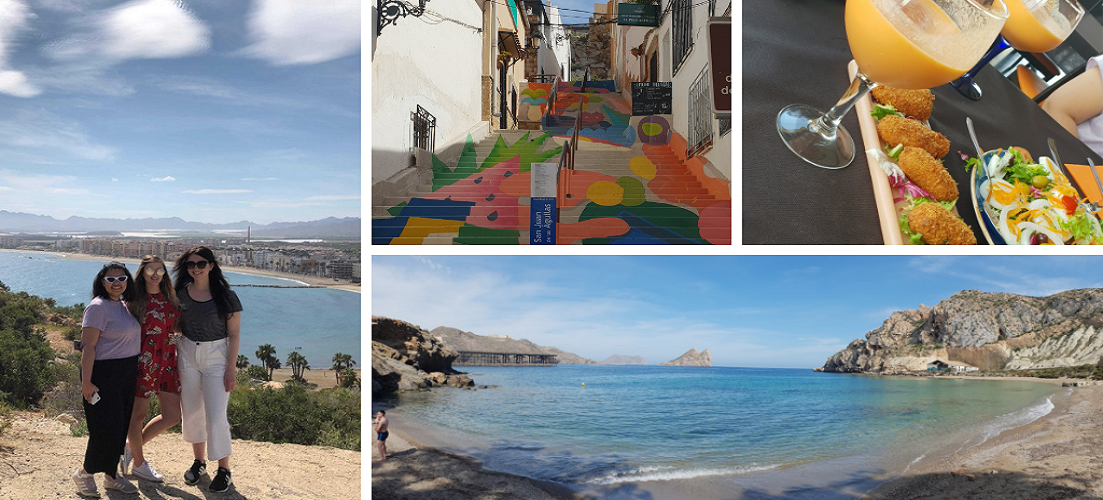 Spend an hour wandering around this small town – it's full of quirky street art and stunning mosaic stairs. You're probably hungry by now so we recommend trying Zoco del Mar for an incredible five-course lunch. Located at the base of the castle, it looks like a bit of a hike. Not to worry though as they offer free minibuses up there which we would definitely recommend! Now you're sufficiently stuffed it's time to check into the hotel and take a walk to one of the stunning 'virgin' beaches of the area. If you're looking for a hotel, make sure you check out Hotel Puerto Juan Montiel Spa & Base Nautica. Not only were the staff amazing, but they also have an on-site spa, swimming pool and a watersport centre. Although, we would definitely recommend taking to the water AFTER your dinner has settled. It's a mistake that we won't make again. Time to grab dinner at the hotel and enjoy a few drinks on the terrace.
Day 2
Time to get up and at 'em, you've got a busy day ahead. But, first things first, breakfast – and if you're anything like us – you'll have three. It's acceptable, you're on holiday. Time to take a drive north to the ridiculously gorgeous town of Lorca. Lorca is steeped in history and a walk around this town makes you feel like you're walking through time itself. It's a very religious town and there are plenty of museums that reflect this. Even if you're not religious the museums and churches are a work of art and should definitely be seen. Time for lunch and a coffee. Make sure to try the Murcian special, cortado coffee with condensed milk. Believe me, it's better than it sounds.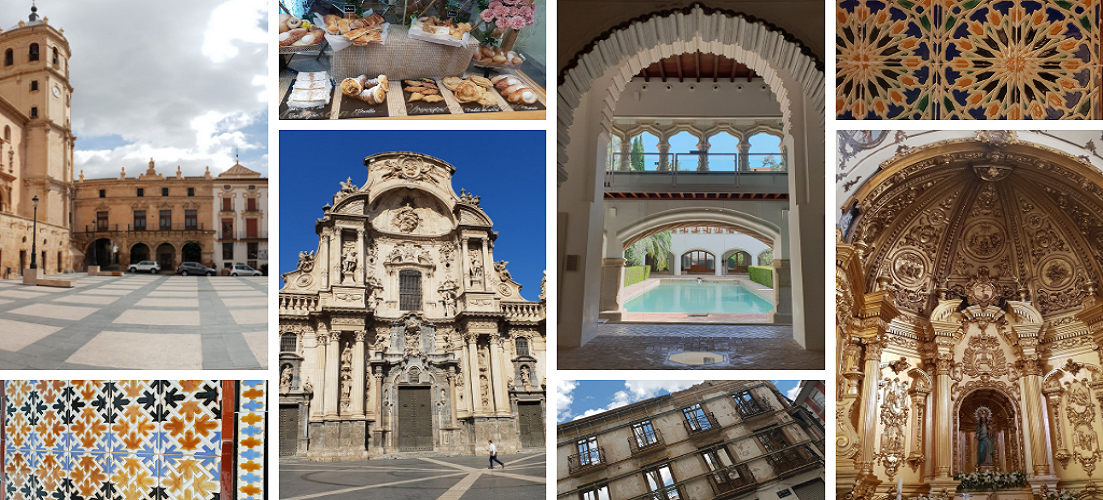 Hop back in the car, we're off to Murcia. There's so much to see and do in Murcia that you could easily spend the whole 72 hours discovering new streets and seeing new sights. But we're only here for the afternoon, so pop on those comfy flip-flops (if there's such a thing) and get walking. Must sees in Murcia: the Santa Clara Museum – shows off the stunning Arabic heritage of the city, the cathedral and the Church of Santo Domingo. Finally, eat a pie before you leave. The traditional pastel de carne is a Murcian delicacy and it's delicious. Time to take a drive to San Pedro del Pinatar, check into your hotel, eat and relax!
Day 3
It's your last day so let's make it a relaxing one, kinda. A trip to Murcia wouldn't be complete without a visit to the ancient Roman city of Cartagena. It can be fairly busy here as the port is a popular stop for a lot of cruise liners, so try and get here fairly early. Take a lift to the viewpoint (you won't be disappointed) and check out Cartagena from above. This also means that the rest of your walking is downhill and not up – winner! On your way down make sure to stop off at the recently uncovered Roman amphitheatre – and also make sure to watch out for the resident peacocks. The amphitheatre has a museum attached and is definitely worth a visit. Time for a quick lunch break before hitting the beach. You may expect the city to be touristy and expensive but we had some of the best tapas here and it was by far the cheapest.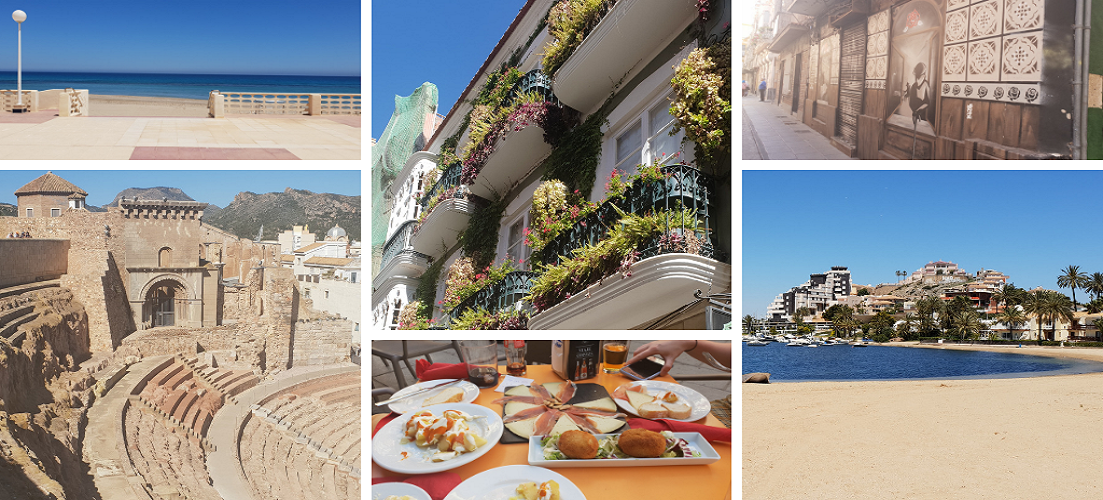 Now it's time to head to La Manga. Known locally as "a paradise between two seas", you'll definitely be sure to find your perfect beach spot for the afternoon. The Mediterranean side has a finer sand, cooler sea and a few waves whereas the Mar Menor side has a slightly coarser sand, warmer sea and is very calm. As they are literally a 2-minute walk apart, why not try both?
Once you're suitably relaxed, head back to San Pedro del Pinatar and take a walk to the Las Charcas mud baths. As you've arrived a little later, you should find it slightly quieter. Top tip: take a bucket AND a scoop – and make sure you have a towel! So, now you've been pampered and your skin is as soft as a baby's bottom, it's time for a night out to celebrate your last night. We stayed local and checked out the promenade area which is surprisingly lively and we even found clubs open until the early hours. If you're looking for a mad night out then La Manga is definitely the place to go.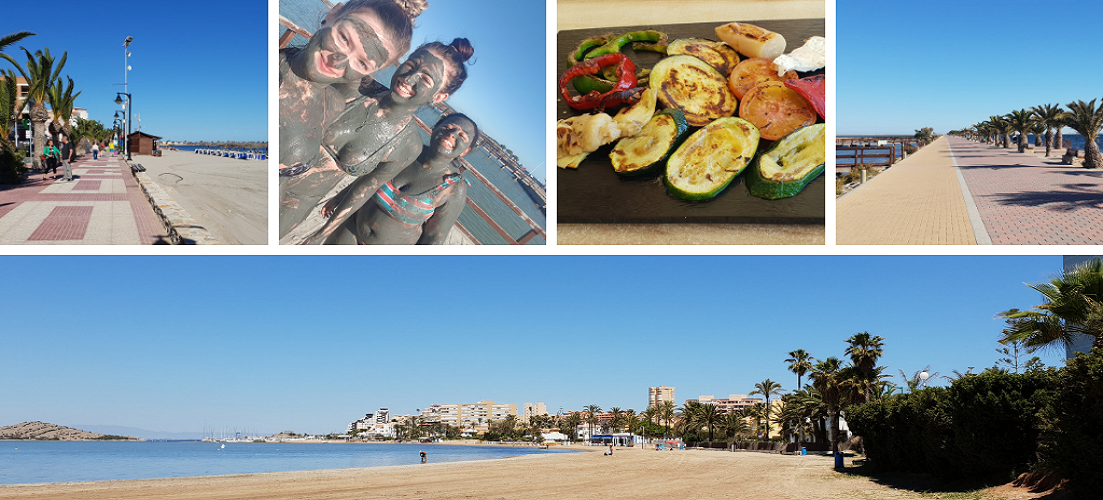 Well, there you have it – the best way to see as much as possible in the fantastic region of Murcia. Ready to explore yourself? Check out more about Costa Calida and Murcia here!