Whether you're topping up your tan in Tenerife or bronzing your body in the Balearics, the beach is always a prime place to people watch. Keep an eye out for these classic characters as we count down the 7 types of people you'll see at the beach…
1) The water baby
This person LOVES watersports. Whether it's jet-skiing, paragliding or even a banana boat – they're always first in line (and usually the best at it).

2) The architect
Building sandcastles is a skill you're either born with or without – and unsurprisingly, those born with the talent are usually found at the beach.

3) The snoozer
The beach is great isn't it? You can take in the beautiful views or… take a nap? Who are we to judge?!

4) The regular
This is your third time at the beach and you've seen the same person, in the exact same place each time. Do they even have a home to go to?!

5) The reader
This person loves nothing more than losing themselves in a good read. Once they've finished, expect the full run down and the ins and outs of the story.

6) The social media addict
From #hotdoglegs to Boomerang, social media trends come and go but one thing stays the same – no background compares to the beach…

7) The drinker…
Are you even at the beach if you don't have a cocktail in your hand? This person doesn't think so. It's always 5pm somewhere, right?!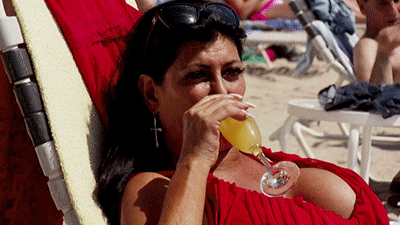 How many of these people have you seen at the beach? Let us know on Twitter at @OntheBeachUK