This weekend, with the help of Sand In Your Eye, we brought a touch of the seaside to Manchester in the form a spectacular 2m high sandcastle. Located in the Great Northern's summer sandpit, the sculpture took 11.5 hours to build and eight tonnes of sand. But how are such masterpieces created? Here are our 5 top tips to build a show-stopping sandcastle…
You will need:
Sand
Water
Spade
Ruler
Spoon
A wooden float (or small flat board)
1) Build a good base
First up, set out the floor space needed, then make a 'Volcano' in the centre of it out of sand. Flatten the top of the volcano then make a rim, and pour in plenty of water. Tap the wet sand until the water drains through – this way the water goes into the pile of sand and the sand goes hard and strong for a longer lasting castle!
If you have a big pile of sand, then make a terrace lower down around the body of the 'volcano' and fill it with water, then compact it with your hands or the spade. This can later be a wall and strengthens your castle.
2) MudPies
Sturdy towers are made from mud pies! Start by making many mud pies of sand on top of one another and pat the sand gently whilst it is wet. A friend can hold the shape so that the sand doesn't fall away whilst you're doing this. For this to work, the sand has to be as wet as possible. Once it is dry stop patting or cracks will appear and your tower will fall down!
If you want to add in archways, build two towers side-by-side, then place your hand in between and put sand on the top. Ta-daaa! You have an arch. Lots of arches and towers make the castle look much more interesting and they are fun to make.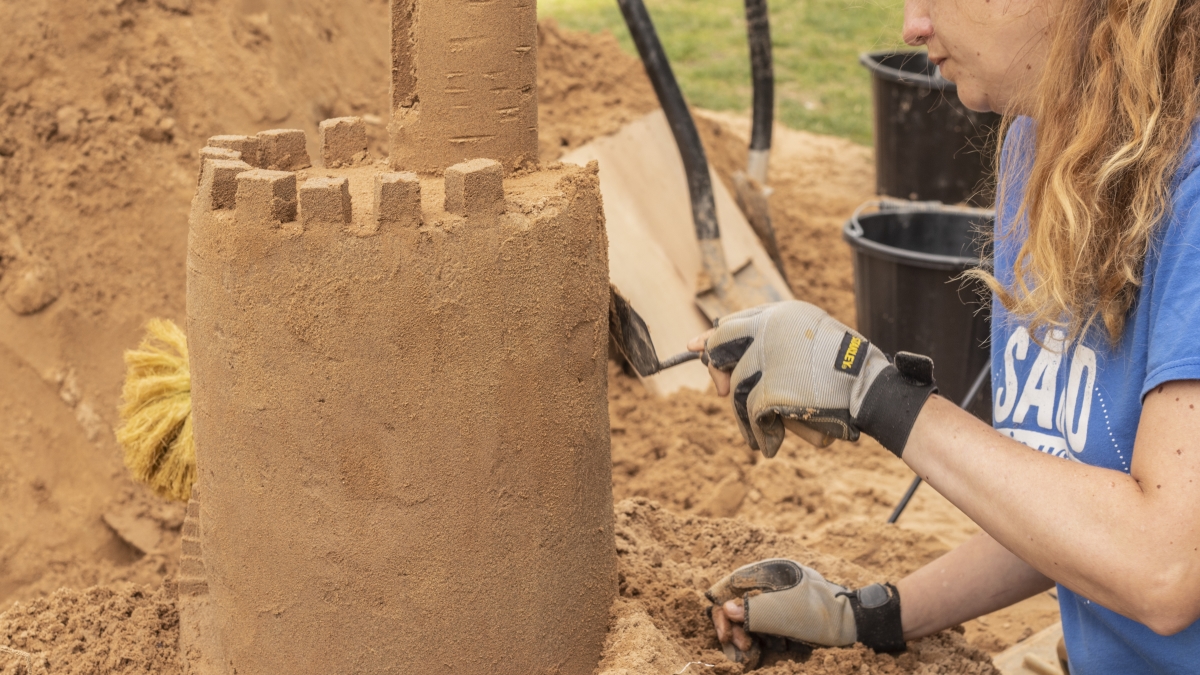 3) Start to carve
Then you can start to build in walls and add detail to the sandcastle. To really make your castle look bigger and bring it to life, add lots of walls. You can create these by using your ruler to carve – carefully – into the sand. Top tip: always carve from the top downwards, otherwise you'll get sand over your finished work.
4) It's all in the details
Details are what will make your sandcastle stand out. You don't need lots of fancy tools to add some truly stunning features to your castle – a ruler and spoon, as well as a wood float (or small wooden board like those used for plastering), will give you everything you need. Add windows, doors and other larger holes with your spoon, then use the end of the spoon to add smaller details like turret windows. You can use your ruler to flatten out staircases.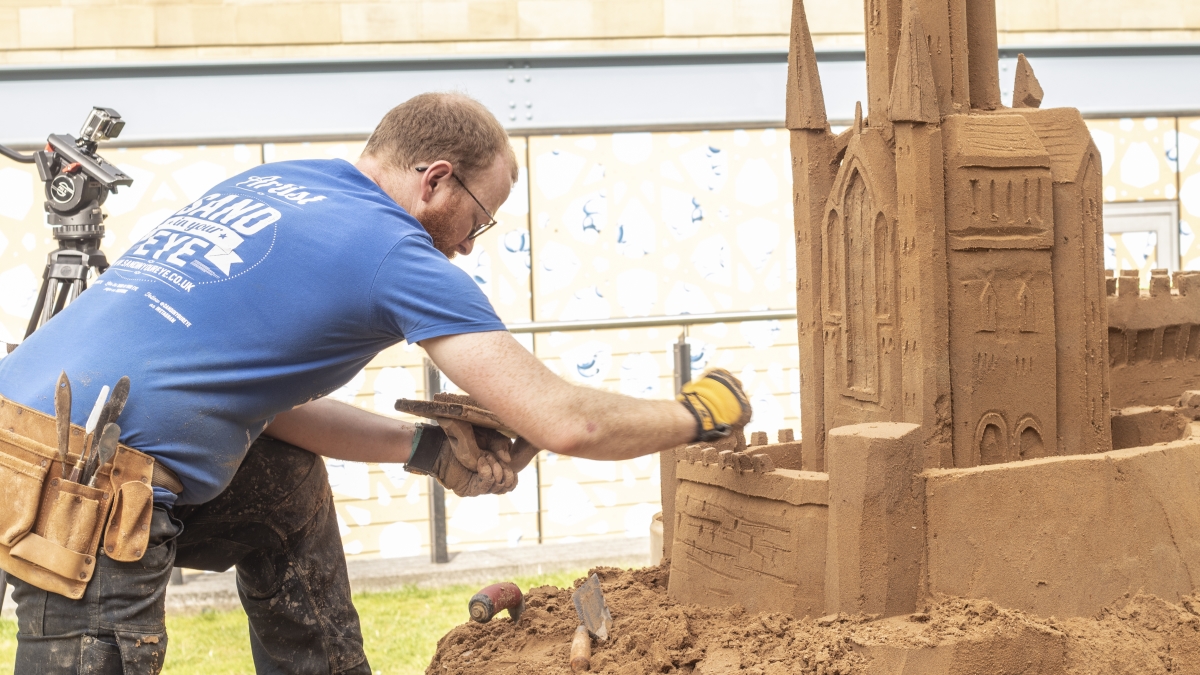 5) The finishing flourishes
You can add 'castellations', like turrets and parapets, by putting very wet sand on your wood float and then adding a little dry sand to help it harden. Then, use your ruler to cut squares and other shapes before carefully placing the castellations on top.
6) Admire the view
Stand back and admire your work. And get a photo, quick!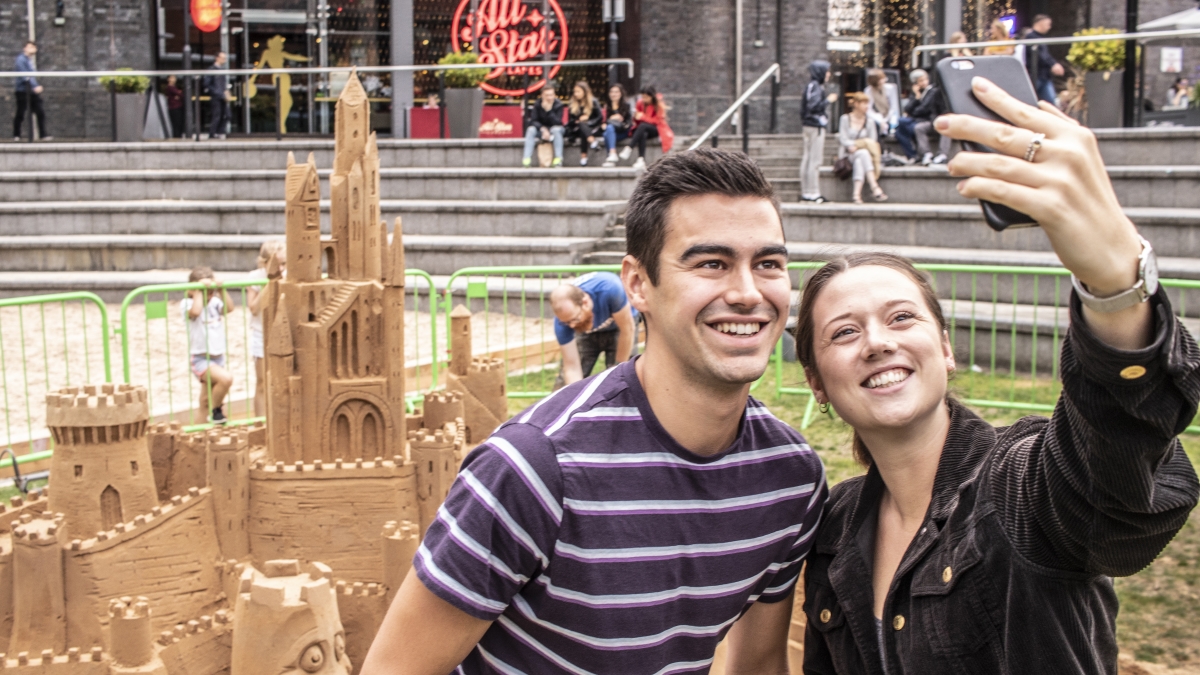 The sandpit is open throughout the summer until 4th September.