If you've ever driven abroad, or even been with someone who's driven abroad, you'll know how difficult it can sometimes be. People may think it's just like driving at home and after a while, yes it is, but there's an emotional roller coaster to go on before you reach the stage of comfortable driving. So, if you've never done it before then listen up, and for those who have then it's time to reminisce about your first time on the other side of the road – here are 10 things you think when driving abroad.
1. I can do this
It's something different but I'll be fine, it can't be much different from driving at home can it? Everything's just the opposite way round.
2. The gear stick's on the right?
Ooh, how strange! That'll take some getting used to. Wait, are the pedals the opposite way round too?
3. Ok, drive on the right and give way to the left
The pedals are the same order as at home so we're good to go. All I need to remember is to drive on the right-hand side of the road and give way to the people on my left. Let's go.
4. This isn't as bad as I thought
This is easy peasy! Driving on the right is no problemo…
5. OH NO! A ROUNDABOUT!
WHO AM I GIVING WAY TO? WHICH WAY DO I GO ROUND? WHAT LANE SHOULD I BE IN? WHERE'S MY EXIT?
6. Everything's fine, just concentrate
So sorry for that overreaction. Everything's good.
7. This seems pretty slow for 60 miles an…oh yeah
Is this car broken? Why am I crawling when the speedo says 60 mi…oh, kilometres. Makes sense.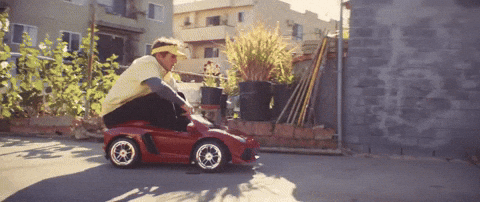 8. WHAT DOES THAT SIGN MEAN!?
'Despacio'? Like the song? CAN SOMEONE PLEASE GOOGLE WHAT THAT MEANS!? Oh, yeah sure I'll slow down.
9. Ok, we're good
I think I'm finally getting used to it. Fantastic!

10. Pfft, I'm practically a local now
Right, get the local radio station on and let's make a road trip of it.
What's your experience with driving abroad? Leave a comment below.