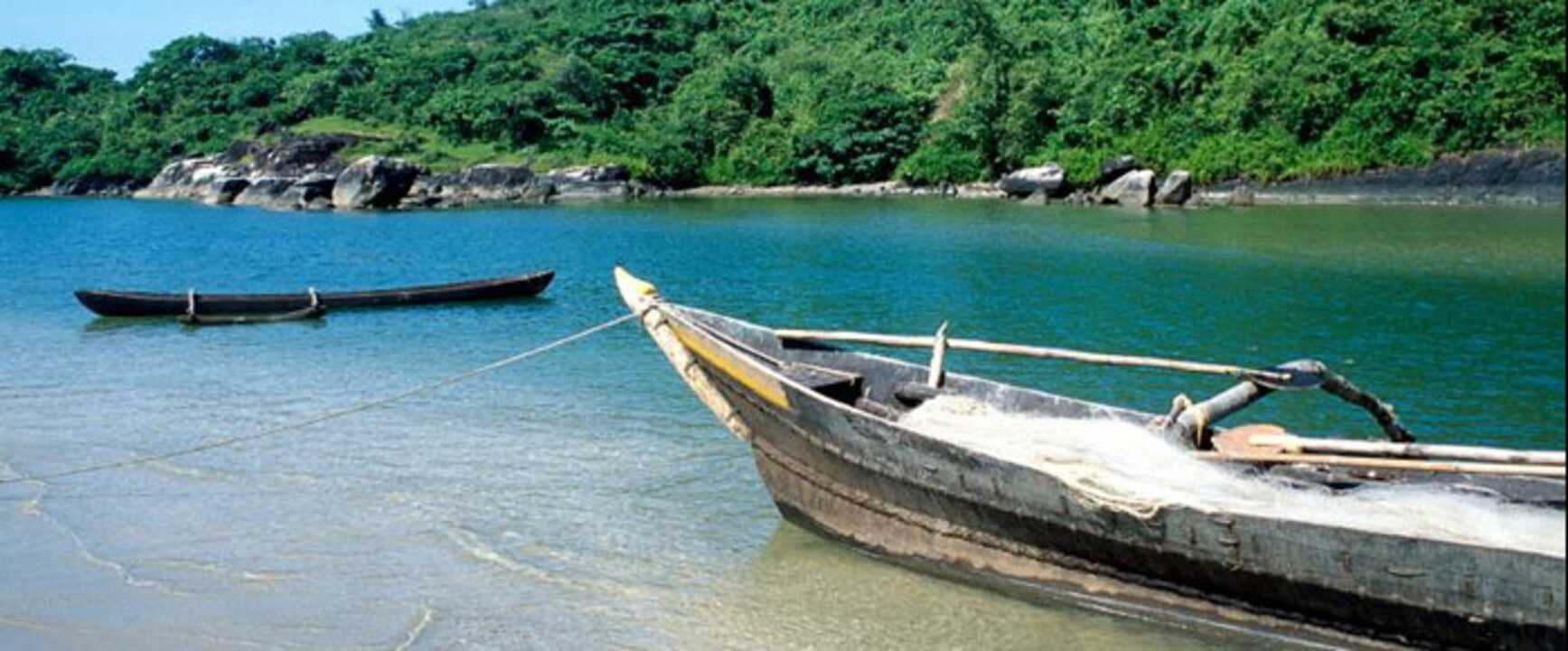 Let your mind wander to sunnier climes, where a huge, crimson sun is making its slow descent into the endless azure of the Arabian Sea, silhouetted by towering palm trees. Picture a fusion of mouth-watering curried food, beachside yoga sessions, whitewashed churches and sweeping beaches. Imagine a longer haul, exotic tourist resort with exciting nightlife that never sleeps, yet an impenetrable peace that can't be measured. Imagine an ancient province with indigenous cultures and traditions with roots stretching back into time immemorial, yet with an up-to-the-minute vibrancy that would become any western city. Imagine India, and then go book a holiday to Goa!
Because if beautiful surroundings, wonderful weather and a friendly atmosphere that you can't get anywhere else are what you look from in a holiday - Goa is the place to go. From its vantage point on the western coast of India, Goa commands not only spectacular vistas of the surrounding seascape, but also a climate that is consistently, but not oppressively, warm. 'Relaxed' and 'friendly' are the words most often applied to Goans, and the dichotomy of the place is reflected in their dress and demeanour - there are more skirts on display than saris, though all Goans retain their unique heritage and age-old traditions. From the infectious vivacity of the Carnival to the communal spirit of Shigmo and its myriad religious festivals, Goa is a place that is never standing still. And all this is less than a day away - the average chartered flight to the Goan coast is an unobtrusive sixteen to eighteen hours.
View destination on a map
Goa Weather
Talking of time, the annual monsoon season lasts from June through late September, and this is when Goa receives just about all of its annual rainfall, so a constant temperature of 25 to 29°C, no less) mixes with humidity and sultry breezes. Best to pack your sandals and light clothes, as the temperature is high from September until December. The cool season lasts from December until February. Well, that's if you call night-time temperatures of 20°C cool! The temperature then reaches its zenith of around 35°C in May, just before the rains break. Apart from that, the odd rainy day is just that - odd - so a light cagoule might be in order.
Things To Do on Goa Holidays
Once you get there, there's so much to see that you might not know where to start. Why not experience the world-famous Wednesday Flea Market at Anjuna, where countless traders, merchants and tribes-people congregate to ply exotic wares and jewellery unseen in the West? Or perhaps the nature is your thing? Goa's animal kingdom is unmatched in its sheer diversity - and Bondla Wildlife Sanctuary, in the north-east, has three square miles of peacocks, deer, elephants and bison, along with other animals you may never even have heard of - enough to keep Sir David Attenborough happy! Alternatively, the Dr Salim Ali Bird Sanctuary on Chorao Island houses enough weird and wonderful wing-flappers as to challenge even the most knowledgeable birdwatcher.
But remember, you're on holiday, and here, beaches of the golden, sunny variety are ten-a-rupee. For a tranquil sun-bathe, try Palolem Beach - right at the south of Goa. This coconut-palmed, sparsely populated paradise is nevertheless adequately catered for by its many restaurants, bars and bamboo huts. Spot the dolphins!
Don't want to travel too much? Have no fear - at 1,400 square miles, Goa is the smallest of Indian states, and the one most easy to get to know. From Dabolim Airport, its but a few miles to the capital Panaji and its sister city, Vasco da Gama, from where you can travel by taxi, car, train or boat (over any of the five rivers) to anywhere in the state.
Culture
European eyes were first opened to Goa by the Portuguese explorer, Vasco da Gama, in 1498, but Goan history stretches way beyond that - from the medieval Delhi Sultans to the ancient, Buddhist-influenced Mauryan Empire. Goa was more recently (and infamously) rediscovered by the hippie movement in the 1960s, when psychedelia and hanging loose were the order of the day. Some of Goa's most famed and eccentric markets actually date not from the Hindi Period, but the Hippie Period, man! Flower power aside, just coming to Goa in itself could be considered a mind-altering experience without the need for drugs, and hanging loose comes as a matter of course.
For a touch of history, you can visit the 17th century Portuguese-influenced mansion, Braganza House, containing one of India's most extensive libraries and the entire history of Goa during its 400 years of Portuguese rule. Or roam to the Rome of the East - the town of Old Goa - for a city that is Mediterranean in all but location, complete with chapels, holy relics and breathtaking Portuguese architecture. Unsurprisingly for such a historically important locale, World Heritage Sites abound in Old Goa. The centuries of Portuguese dominance have left a legacy of religious houses and convents, not least of which is the gothic, grandiose cathedral of Se. Perhaps the most prominent is the Bom Jesus Basilica, which is home to the remains of the Great Converter, St Francis Xavier, and which has to be seen to be believed.
Distinct from the rest of the subcontinent, the culture of Goa is amazingly unique. Why not take a trip to one of the many festivals or religious parades - and don't worry about missing them, there are almost more holidays here than workdays! Perhaps the most typically Goan festival is the Shigmo, an age-old gathering, where a troupe of dancers perform to the Naman, or holy songs, which are said to bring forth benign spirits which take over the bodies of the players. Or the three-day long Carnival, world famous for its variety of delights, from lavish banquets and street plays to the election of the King of Chaos! Goa's festivals reflect its wide diversity of religions - whether Roman Catholic, Buddhist or Hindu, something is always being celebrated here!
Nightlife
Hungry? Well, not surprisingly given its coastal location, fish is a popular delicacy here. Restaurants and bars are legion no matter where you are, with every conceivable dish on the menu from local delights such as curried fish with rice to mouth-watering repasts such as Sorpotel (sauced pork) and Xacuti (meat curry prepared with a recipe of Goan spices) that are world-renowned. Vegetarians, relax - there are more varied vegetable dishes on offer here than anywhere, thanks to the various spices, peppers and chillums in abundance here. European dishes, some prepared with a dash of Goan ingenuity, are on offer also. You can end the day at your own leisure - many bars, clubs and eateries here are open all night long - so time is what you make of it.
Book a Goa Holiday now!
So there you go: describing Goa as an Indian tourist resort is to short-change it, for Goa cannot be said to be fully Indian or western, but a completely unique blend of the two. But don't take our word for it. Why not come see for yourself? Fortunately our live online booking system makes it unbelievably simple to create your own customised holiday in Goa, allowing your to combine flights and accommodation with ease. Don't delay, there are amazing deals available today!
Goa Resorts