April 26, 2012 12:00 am
Leave your thoughts
Ladies, it's nearly that time of year again… Time to unveil that bod of yours. For some it can be a scary time, but there's no need to fret! All body shapes are beautiful and we have some great tips for getting the best look from yours.
Depending on your body shape, here are some failsafe rules to abide by to ensure you look your very best by the pool or on the beach…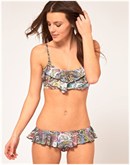 If you're small on top
Look for an embellished or frilly triangular top. You may want to opt for padding, though horizontal stripes will make your shape look fuller as well.
This River Island number (£32) on ASOS is so cute, yet sexy at the same time. The ruffles on the top and bottoms will give the body more shape.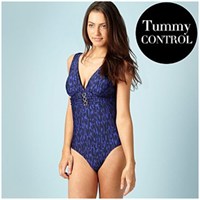 Looking to hide your belly?
There are a couple of quick tricks to either pull your stomach in, creating an hourglass figure or that will draw the eye away from that area. A belted one piece will cinch your stomach and give your body a lovely, womanly shape. You may feel confident in a tankini, just make sure that it's not too small, as this will emphasise your stomach area and potentially create a muffin top. Another great trick is to use colour blocking or an empire waste line. Empire lines draw the eye up, away from the waist, while wearing a costume with black on the bottom and a light colour on top has a similar affect.
We love this one piece by Jasper Conran (£42 Debenhams) with a sexy plunge neckline and low cut back; the empire line will draw the eye up from the stomach. Not only all this, it actually has a tummy control feature too! Genius!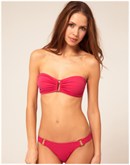 Bootylicious babes
Bikinis with rings or a bit more material will prevent the bottoms riding up. Wedgies aren't attractive and definitely something to be avoided! One pieces with plunging necklines can be incredibly sexy and will draw the eye up. Curvy bottomed girls should always avoid small prints, while darker bottoms with pale tops can work best. Low rise bottoms can slim bottoms by being set lower on the hips.
At £22, we think this Vera Moda bikini from Asos is a bit of a bargain! In a choice of colours, this two piece will look and feel great.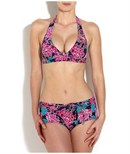 Busty ladies
If your bosoms are on the voluptuous side, you'll want to go for either a thick strapped halter or an under wired bikini for support. Spaghetti straps should be avoided, as you will probably find that they head south! V-neck one pieces can look very sexy, showing just the right amount of cleavage.
This New Look bikini is a real bargain (£22.99). With great support, it's going to be a comfortable and sexy number to wear on the beach.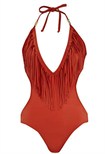 Long bodies

If you're on the long side, cut out swimming costumes can look really fab. The cut out area will bare some of that lovely lean body, while giving your torso more shape.

This River Island one piece is so on trend with its frills and low cut neckline. The cut out sides and back will leave you feeling super sexy!

Still not ready for the sun? Here are our top tips to enhance your confidence –

1. Self tan before you go

You can always tell the holidaymakers that have just arrived at resort thanks to their shiny white complexion. Ensure you fit straight in by turning up with a holiday glow. A day or so before you leave, fake tan. It costs around £20 to get a professional spray tan, although if you shop around you may find a £10 deal. They'll last around a week and will give you a great base to start your tan. Doing it yourself? We love St Tropez spray on tan (around £20, available from Boots and department stores) for ease and speed of application, colour and smell. However, you can get a great colour from some of the cheaper tans on the market, such as Garnier Ambre Solaire Moisturising Bronzer is from £5.

2. Bear less with a sarong

Sarongs are not only great for covering up when you feel exposed or have had enough sun but they're also great for hiding areas that may make you feel less confident. To name a few uses, you can wear them as a dress, skirt or head piece. A staple holiday piece!

3. Keep hydrated

There are all sorts of reasons to stay hydrated in the sun, like not fainting for a start! Keeping hydrated will ensure that your skin doesn't dry out, your tan lasts longer, and will prevent you from getting puffy. Always have a bottle of water with you and get as much H2O in your system as possible.

4. Good posture will make you look taller and thinner

Don't forget your posture, push those shoulders back and lift your head tall, elongating your body. Doing this will push your chest out too, accentuating your bust and all in all increasing your sex appeal!

At the end of the day however, it really does come down to confidence. Wear what's comfortable and remember, everyone has body hang ups!! There are very few among us who feel 100% happy with our bodies. Make the most of the body you've got and remember that confidence is the key to looking fit on the beach!

Beach guide, Beauty, Blog, Fashion


Categorised in: Holiday Inspirations

This post was written by Tanase Rivers